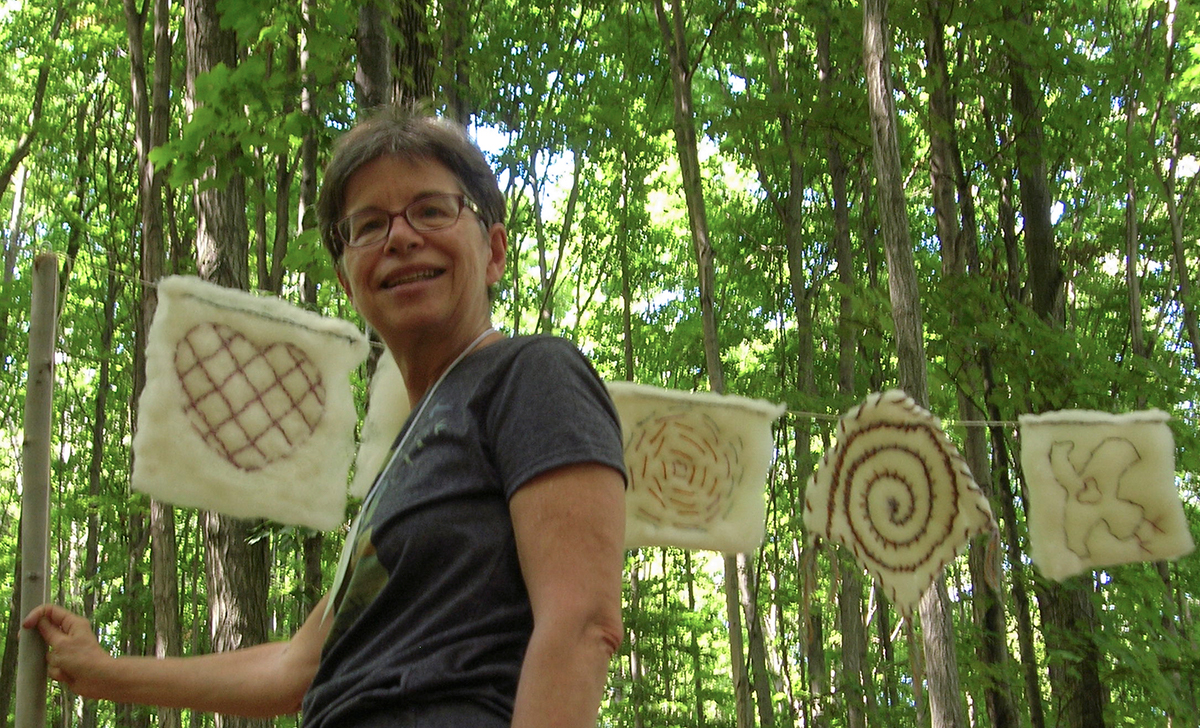 Nancy McKay
Nancy McKay is an interpretive artist, nationally recognized for her ability to engage others in producing transformational art through the experience of being on-the-trail.
She has served as artist-in-residence at the Grand Canyon, Hot Springs, and the Badlands National Parks in addition to her work in Michigan with Legacy Land Conservancy. She has guided many audiences in finding the "stories" behind each landscape and developing themes that explore universal concepts (for example: joy, natural beauty, perseverance, hope, and peace.)
Interpretive Workshops with Nancy McKay
Saturday and Sunday Mornings
July 16 – August 7
Drop in, 9:00am-Noon
All ages welcome
Children and adults are invited to explore the Art Park this summer using Nancy's interpretive techniques. Nancy will be stationed at Discovery Grove to greet visitors and lead interpretive programs including journaling and observation.
Journaling
With Nancy's guided interpretive techniques, you'll learn to write better journal entries, poetry, postcards, and tweets. Discover a more personal experience the park as you practice crafting your entries, and connect your stories to meaningful experiences engendered by the art in the park.
Meet a Tree
Children love this program. We'll talk about the roles of trees referenced in the park, play green bingo, and adopt a tree. In this self-directed family activity find a tree that "speaks to you" and look for clues that help identify it. Observe its shape and the formations of leaves and branches. Estimate how old it is. Find evidence of animals that live there, notice its neighbors, and learn about succession in forests.
You can follow along this summer on Nancy's blog: Silk Road Wandering

---
---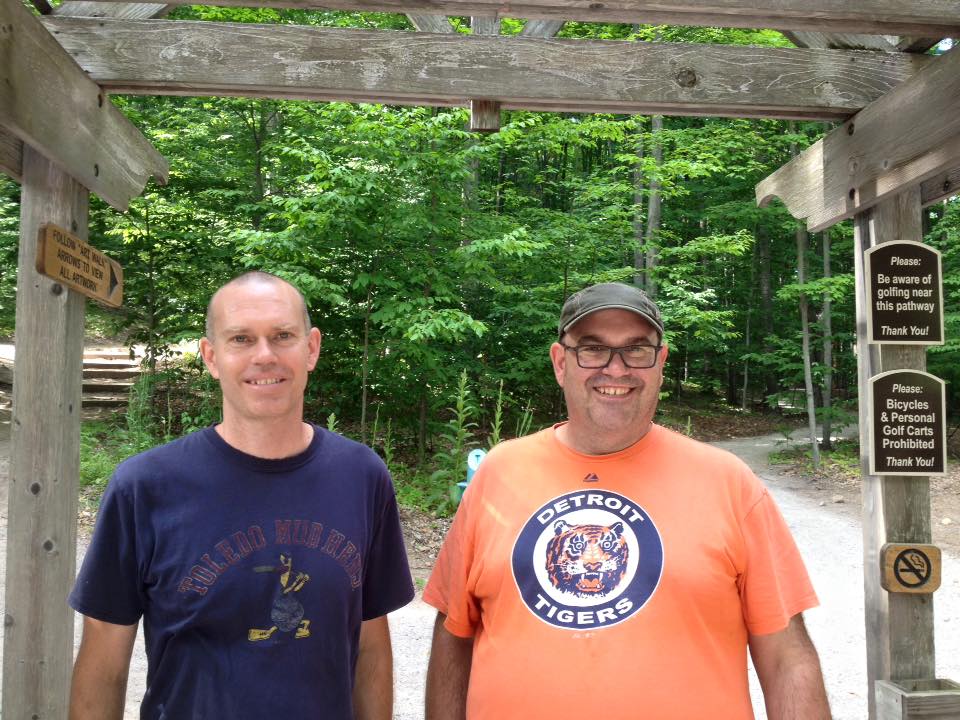 John DeHoog and Brian Nelson
Instructors at Easter Michigan University, John and Brian are both intimately involved with art-making in the natural environment.
During the course of their residency at the Art Park, they will develop an installation in the art studio at the Parsons Center, involve Eastern Michigan University students, and engage the public through open studio time at the Parsons Center and during their installation at the Art Park.
The final installation will include 4 – 5 student pieces surrounding their larger artwork along the accessible trail at the Art Park based on the idea of "Sculp-itecture". While the actual form, dimensions, and details will be developed during the residency, the work will have architectural qualities (openings, shelter, ingress/egress) and sculptural qualities (compositionally dynamic, purpose and proficiency with materials, and conceptual aspects that challenge the viewer). The piece will pay respect simultaneously to our state's history of experimental modern architecture and the resourcefulness of life up North.

Artists Schedule
July 14
11am – 4pm
Public open studio at the Parsons Center
July 18
1pm – 4pm
Artists will be working in the Art Park
July 19:
2pm
Public presentation at the Art Park
The Parson's Center
5833 Bellows Lake Rd
Lake Ann, MI 49650
The Eastern Michigan University Jean Noble Parsons Center for the Study of Art and Science is an interdisciplinary educational center and natural area located in Lake Ann, MI.
View Map