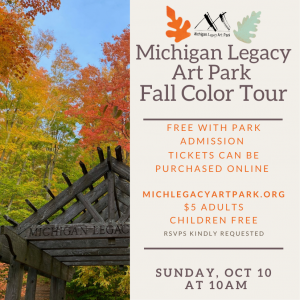 Enjoy Fall Colors on a Guided Tour at Michigan Legacy Art Park
Led by Naturalist and Tour Guide Caitlin Chism
Michigan Legacy Art Park is offering a special guided tour on Sunday, October 10th at 10am with Naturalist and Tour Guide Caitlin Chism to experience fall colors in the Art Park. 
Hiking the Art Park's 30-acre hardwood forest is a great way to experience the beauty of the changing seasons. In addition to viewing the 50+ sculptures along the trail in one of the top sculpture parks in the USA, hikers will appreciate Chism's expert insight on the natural environment of the park, including tree identification. 
This tour is free with park admission: $5 per adult and free for children. We are a designated Blue Star Museum and offer complimentary admission to military families. Tours take approximately 1.5 hours along nearly two miles of rustic and hilly trails. 
Meet at the Art Park trailhead by 10 a.m. on Sunday, Oct. 10, 2021. Please purchase tickets below. There will be light refreshments to enjoy.  If you are a military family, please email kerry@michlegacyartpark.org to RSVP.
Walk-ins welcome day of event, cash or credit card accepted.
Please complete registration form below.
Fall Color Tour Registration
For more information on these and other events happening at Michigan Legacy Art Park, visit michlegacyartpark.org or call (231) 378-4963 or email kerry@michlegacyartpark.org.