Volunteers put the mission of Michigan Legacy Art Park into action. There are rewarding opportunities for everyone—guiding tours, greeting guests at the trailhead, event planning, maintenance, and more.
Submit Volunteer Interest Form
Those interested can also contact us directly.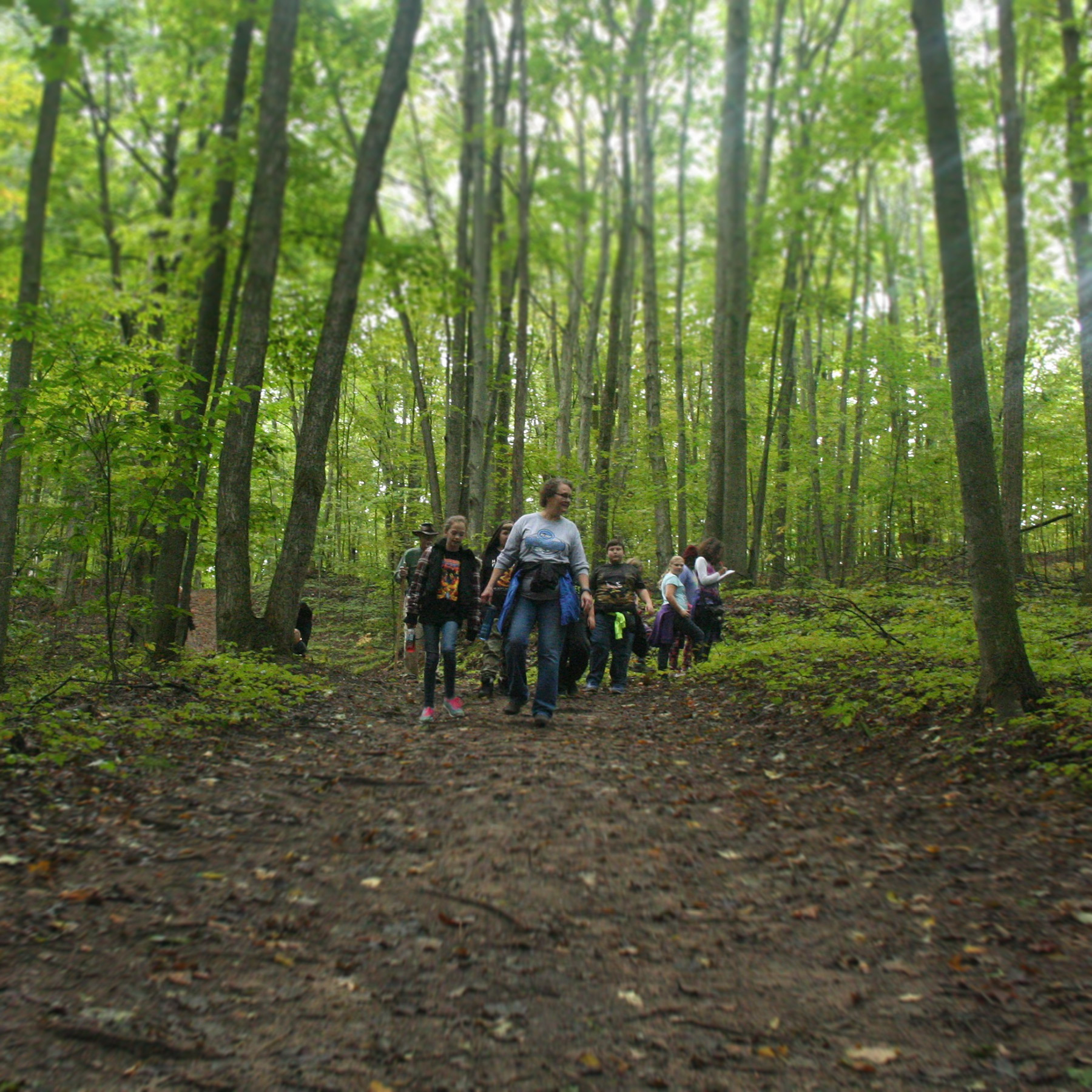 Become a Tour Guide
We are currently seeking volunteers to serve as tour guides for school field trips and various groups throughout the year.
Curious? Let us know
Requirements
No prior art experience necessary
Enjoy being with people/kids
Physically able to hike rustic trail
Positive spirit
Flexible
Willing to learn
Tour Guides Receive
Training
Resources
Pocket Guide
Shadowing experienced guide
---
Volunteer Opportunities
Tour Guide Training
September 19 | 9:00am – 11:30am
This required training is the first step to becoming an Art Park tour guide. The two-hour training includes time in the park, information and tutorials from staff, printed resources, and a trail guide for reference.
Existing volunteers should also plan to attend this training.
Trailhead Greeters
August
Many people visit the park for self-guided tours throughout the summer. These greeters welcome each guest, make sure they have trail maps, bug spray, activity guides, and answer any questions they may have.
Stewardship Day at the Art Park
April 2017 | 9 a.m. – Noon
Each spring, many people are needed to help rake, pick-up sticks and clean sculptures. Meet at the Art Park trailhead at 9 a.m. to receive your assignment.
Fairies & Forts!
Saturday, June 17, 2017 || 2 – 5 p.m.
Volunteers are needed to set-up/tear down, welcome visitors, assist with art projects, give tours, and sell merchandise: 1 – 5:30 p.m.
Summer Sounds concert series
July – August || 7 – 9 p.m. (volunteers arrive at 6 p.m.)
Volunteers are needed at each concert to welcome guests, encourage donations and sell merchandise. These popular concerts are a fun way to support the Art Park while listening to great music in a beautiful setting.
Field Trips & Guided Tours
Various days and times
Join a group of dedicated volunteers to learn to lead interactive tours for school field trips, facilitate environmental art projects and/or lead tours geared for adults. The training process for becoming a guide includes a one-hour training session plus shadowing an experienced guide on two tours. Once a volunteer is comfortable leading a group, their name is added to a roster of guides who are called for availability when new field trips and tours are added to the schedule.
If you have any questions about these volunteer opportunities, please contact our office.
Winter Sounds Concert
Hiking along our new barrier-free trail, listening to holiday songs performed by the Benzie Central Choirs, singing along to carols, a bonfire, hot chocolate and community. Volunteers are needed:
Set luminarias along the new barrier-free trail: 3 – 4 p.m.
Greet guests, accept donations for admission, hand out song sheets: 4 – 5 p.m.
Serve hot chocolate: 5 – 6 p.m.
Clean up: 6 – 7 p.m.
Questions? Contact Us today