Interpretive programs offer children and adults activities to develop a more personal relationship with art and nature.
---
Join us for Saturday Drop-In Art Activities all Summer Long!
Every Saturday 10:00 AM – 1:00 PM (May)
Every Saturday & Sunday (June – August)*
Drop in to the Art Park this Spring and Summer to meet artist and environmental educator Ramona GeGeorgio-Venegas. You will have the opportunity to create a "Michigan Blue" wood disk for our 2023 community art project.
* June 24: activities will be part of our free family event: Fairies & Forts!
* There will be no activities on: June 17, August 20, August 27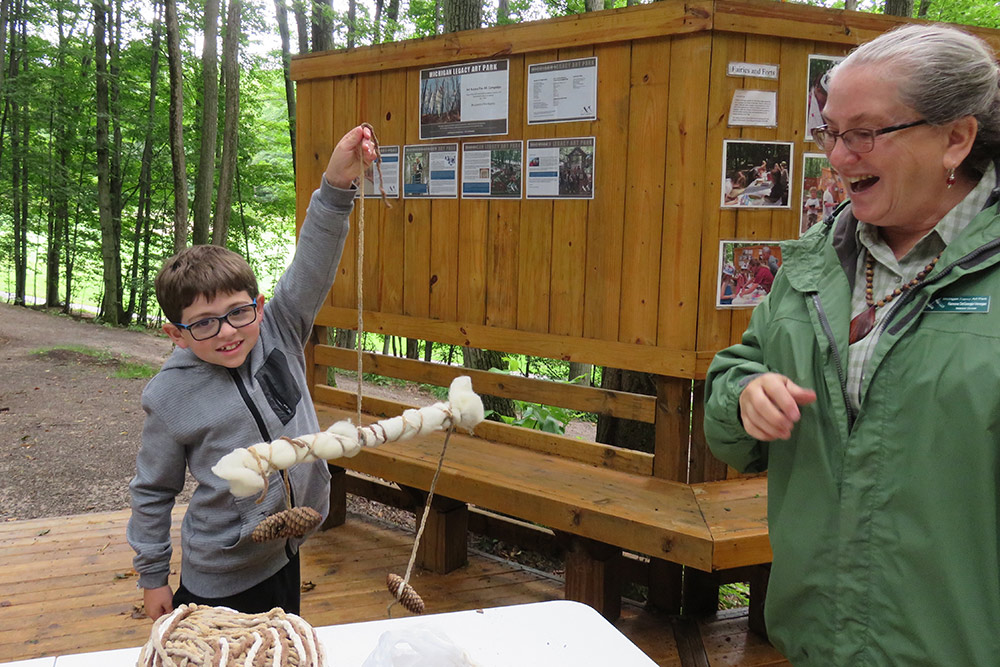 About Ramona
Ramona DeGeorgio-Venegas is an environmental educator, with a love of both art and nature. She enjoys sharing ways for others to see, hear, touch, feel and appreciate the outdoors and make good memories of their experience. Prior to her retirement, Ramona was an outdoor recreation planner with the USDA Forest Service, where she worked with natural resources, trails and interpretation.
Ramona has served with the Peace Corps in three environmental education assignments to Chile, Peru and Guyana. Ramona also volunteered with the residential environmental education camp at Acadia National Park in Maine. She substitute teaches in Manistee County, and speaks fluent Spanish.
---