Interpretive programs offer children and adults activities to develop a more personal relationship with art and nature.
---
Join us for Saturday Drop-In Art Activities all Summer Long!
Dates and times can be found below or on our Calendar of Events. Art activities are free with paid admission of $5/adult, children ages 17 and under are free.  Children must be accompanied by an adult.  Drop-in activities are between 10:30am-1:30pm on dates noted below.
Visitors of all ages are encouraged to drop in to Discovery Grove for activities and insight.  Held Saturdays (and some Sundays) during summer, join environmental educator Ramona DeGeorgio-Venegas as she shares her wealth of knowledge on the environment and natural resources as an interesting foundation for guests exploring the park.
Each week activities may include (see calendar below for weekly themes):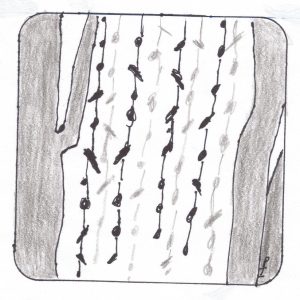 Pine Cone Mobiles: Create a mobile from pine cones that can be taken home or added to our large scale onsite community project called "The Pine Cone Forest" being led by environmental artist Patricia Innis. (Patrica has 4 works of art in the Park including Robins!)  This is an environmental art project that will be on display at the Art Park for the summer and fall. Participants are invited to create "pinecone trees"  by tying cones to a 12-foot long piece of twine. This activity is supported by the Michigan Council for Arts and Cultural Affairs, administered by Northwest Michigan Arts & Culture Network. It is also supported in part by a grant from Benzie Sunrise Rotary Club.  Thank you to both!
Pressed Wildflowers: Using Michigan wildflowers, this activity will create beautiful art projects.
Haiku: Using nature and art as inspriation, this activity is all about writing a Haiku.  There are only three lines, totaling 17 syllables. The first line is 5 syllables. The second line is 7 syllables. The third line is 5 syllables like the first.
Green Bingo: With a special bingo card, see how many different shades of green you discover as you explore the Art Park.
Art Scavenger Hunt: This activity booklet will lead participants on a scavenger hunt through the Art Park to discover artworks that connect to wildlife, natural surroundings and Michigan history.
Tree Scavenger Hunt: This activity will lead participants through the Art Park using the bark and leaves pictured on the sheet to identify tees.
SPECIAL DAY June 25th: Join us for Fairies & Forts Day with art projects, entertainers and a parade to the fort! More details here.
TOPICS each week, along with a variety of other options!
Drop-in between 10:30am-1:30pm *unless otherwise noted
Saturday, May 28:  Pine Cone Forest Mobile
Sunday, May 29: Pine Cone Forest Mobile
Saturday, June 04: Pine Cone Forest Mobile
Sunday, June 05: Pine Cone Forest Mobile
Saturday, June 11: Pine Cone Forest Mobile
Sunday, June 12: Pine Cone Forest Mobile
Saturday, June 18: Haiku
Saturday, June 25: NOTE 10am- Noon for Fairies & Forts Day
Saturday, July 02: Pine Cone Birds
Saturday, July 09: Pine Cone Forest Mobile
Saturday, July 16: Haiku
Saturday, July 23: Pine Cone Forest Mobile
Saturday, July 30: Haiku
Saturday, August 06: Pine Cone Birds
Saturday, August 13: Wildflowers
Saturday, August 20: Pine Cone Forest Mobile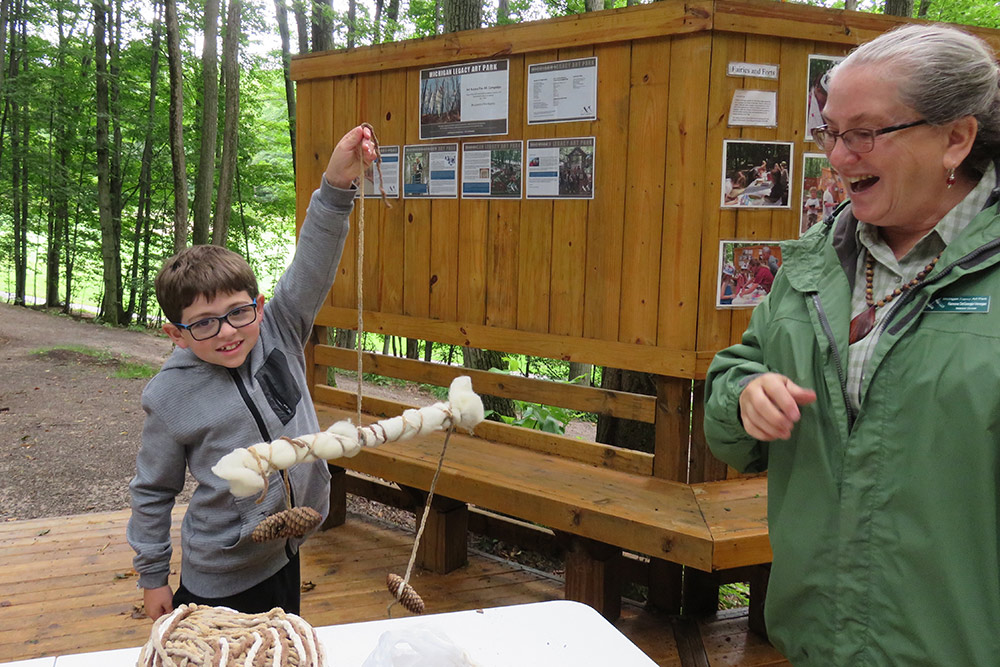 About Ramona
Ramona DeGeorgio-Venegas is an environmental educator, with a love of both art and nature. She enjoys sharing ways for others to see, hear, touch, feel and appreciate the outdoors and make good memories of their experience. Prior to her retirement, Ramona was an outdoor recreation planner with the USDA Forest Service, where she worked with natural resources, trails and interpretation.
Ramona has served with the Peace Corps in three environmental education assignments to Chile, Peru and Guyana. Ramona also volunteered with the residential environmental education camp at Acadia National Park in Maine. She substitute teaches in Manistee County, and speaks fluent Spanish.
---