Interpretive programs offer children and adults activities to develop a more personal relationship with art and nature.
---
Pine Cone Birds
July 6
9:30am – 12:30pm
Create pine cone birds and nest with environmental artist Patricia Innis. Patrica has 4 works of art in the Park including Robins!
Interpretive Workshops
July 12 – August 17
9:30am – 12:30pm · Fridays and Saturdays
1:00pm – 4:00pm · Sundays*
*There will be no workshop on Sunday, July 21
Environmental educator Ramona DeGeorgio-Venegas shares her wealth of knowledge on the environment and natural resources as an interesting foundation for guests exploring the park. Visitors of all ages are encouraged to drop in to Discovery Grove for activities and insight.
Green Bingo: With a special bingo card, see how many different shades of green you discover as you explore the Art Park.
Scavenger Hunt: This activity booklet will lead participants on a scavenger hunt through the Art Park to discover artworks that connect to wildlife and the natural surroundings.
Mobiles: Create a mobile from branches, pine cones, other natural materials and batting. These can be taken home and hung outside to provide nesting material for birds.
Painting with Rocks: Create a painting by pressing paper on tempera coated pea gravel, while learning about how sedimentary rocks are created.
Letters for Scrabble: Create letters on stones to help create a scrabble game at Discovery Grove.
Messages for a Tree: Children can leave a message or poem to their favorite tree in the park.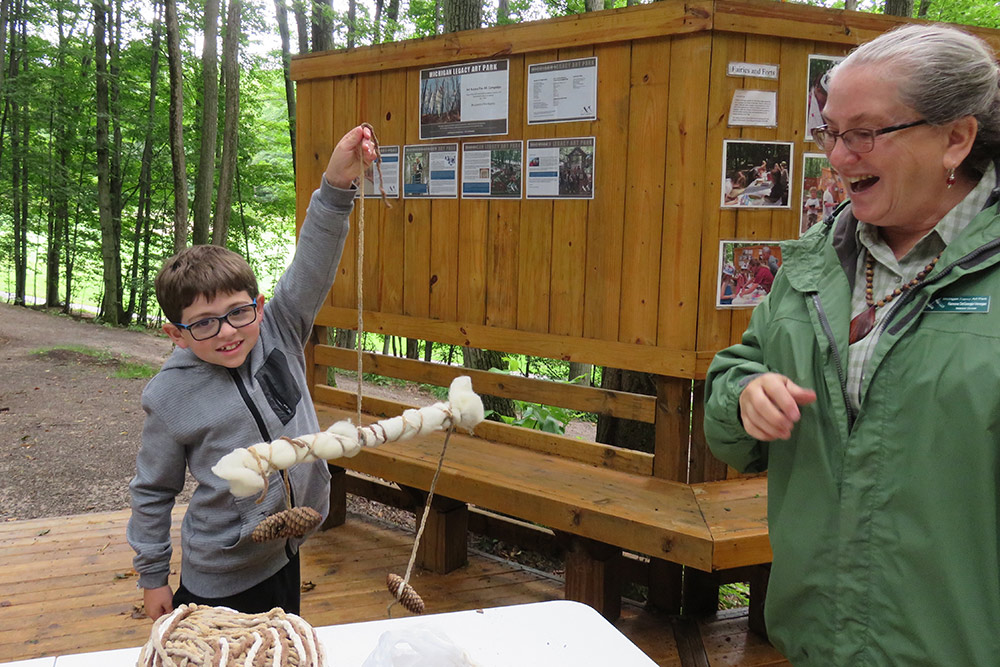 About Ramona
Ramona DeGeorgio-Venegas is an environmental educator, with a love of both art and nature. She enjoys sharing ways for others to see, hear, touch, feel and appreciate the outdoors and make good memories of their experience. Prior to her retirement, Ramona was an outdoor recreation planner with the USDA Forest Service, where she worked with natural resources, trails and interpretation.
Ramona has served with the Peace Corps in three environmental education assignments to Chile, Peru and Guyana. Ramona also volunteered with the residential environmental education camp at Acadia National Park in Maine. She substitute teaches in Manistee County, and speaks fluent Spanish.
---