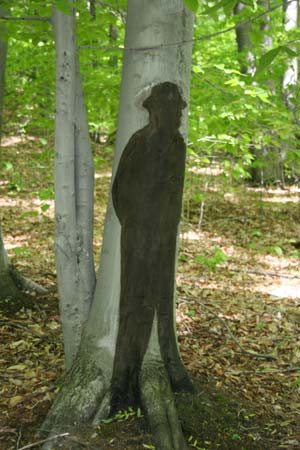 Patricia Innis' work reflects the spirit of times past and the study of their transformations. An environmental artist, she integrates art and nature in works like Field Projects, selectively cutting paths in huge fields of corn or grass that, when viewed from the air, are revealed to be intricate designs and symbols. Because of the natural mediums used in her art, many of her finished pieces are documented with photos and videos. Innis' work is included in the public collections of Bowling Greene State University, Northwestern University and the Central Iowa Airport. She has also provided illustrations in Embroidered Horizons, a poetry anthology, and in the History of the Pioneer Picnic.
Patricia Innis received her master of fine arts degree from Maharishi International University and her bachelor of fine arts from Bowling Green State University. A committed educator and University Professor, Patricia Innis works closely with students from area schools while installing her art.
Logging Camp was originally created as a series of ephemeral works commemorating the men who worked in the camps during the late 19th and early 20th centuries. The artist's grandfather was among those that participated in Michigan's "timber rush," harvesting millions of trees from virgin forests.
The original images for Logging Camp were intended to be temporary. During each season, beginning in fall 1999 and continuing through the summer of 2000, Patricia Innis created silhouette-like images on trees throughout the park, the images were selected from family photos and placed on trees using natural materials of the season including snow, fallen leaves and dye she prepared herself from berries and bark. The art was so popular that Innis was asked to make some of them more long lasting. Take a moment now and then to look for the spirits of Logging Camp as you tour the park