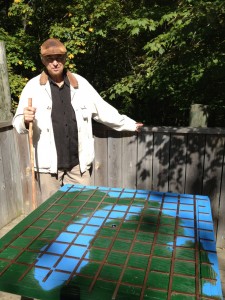 Dewey Blocksma serves as sculpture conservator for Michigan Legacy Art Park where he monitors the condition of each work of art and makes repairs as needed. Of this new position, Blocksma notes "One would think that taking a sculpture off its pedestal and moving it outdoors would be relatively simple, but with wind and snow, not to mention falling trees, nature can confound. I look forward to the challenge of extending the lives of the wonderful objects in the Park with attention to developing guidelines for future projects. The fun begins when the obvious approach fails, and you have to find a more creative solution."
Born in 1943 in Amarillo TX on an Air Force Base, Dewey Blocksma at the age of 5 found himself on a ship headed for Pakistan where his father, a physician, started a hospital after Partition. Home schooled with an emphasis on the creative arts, these early years fueled his imagination.
After earning an MD from Northwestern in Chicago with graduate training at Dartmouth Affiliated Hospitals in New Hampshire, Dewey practiced Emergency Medicine until 1980 when he gave it up for Art. Although he studied bronze casting with John Pappas at Eastern, he chose to emulate the folk art tradition of making something about one's own experience from materials at hand. His work was included in "American Art of the Twentieth Century," a 1983 book by Johnson and Ketchum.
His work is also influenced by work opportunities in Tanzania, Nigeria, Senegal, and Peru. Over the last 30 years his sculpture and paintings have been shown at the annual Outsider Shows in NYC, the Xochipilli Gallery of Birmingham MI, the Saslow Gallery of Chicago, and the Tamarack Gallery of Omena, MI and many others. His work has been widely reviewed by publications including The New Art Examiner, The Birmingham Eccentric, and the Detroit Free Press.
His work is included in many collections including the University of Michigan Museum of Art, the Dennos Museum,
the Time-Life Collection of Detroit, and the Johnson Toy Collection of NYC. Blocksma with his sister Mary Blocksma have authored four toy books for children including Easy to Make Space Ships That Really Fly, a Reading Rainbow selection.