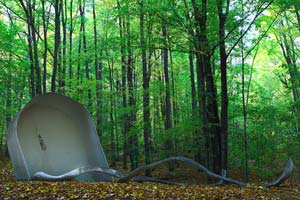 Of her Bonnet, Lois Teicher writes, "The Bonnet with its inner space and flowing outer ribbon… represents women's contribution and presence throughout time… particularly during pioneer life when the very sustenance of life had to be created daily."
In his history of the State, Michigan native and Pulitzer Prize winner, Bruce Catton recalls the life of pioneer Mary Nevitt Morgan, who, with her husband, Zachariah, helped found Boyne City. Her story is worth contemplating when viewing Bonnet.
Mary was the daughter of fugitive slaves who fled to Canada and then to Haiti in 1860. There she met Zachariah Morgan, who, though born to liberated slaves, followed the same route to the island for fear of abduction. Mary and Zachariah married and had two sons in Haiti before returning to the United States, this time to Northern Michigan, where Mary's sister, Louisa, had bought land on Pine Lake near Charlevoix. In the early years, Mary and her two sons farmed while Zachariah got a job in Charlevoix to bring in extra money. When the railroad went through to Little Traverse Bay, they invested their savings in land that was being platted near the mouth of the Boyne River. There they organized the first school district and became charter members of the first church.
Zachariah died in 1894. Mary lived on to be the guest of honor at the diamond jubilee of that first church in 1949. When she died two years later, at 107, all the businesses in Boyne City were closed to honor the woman who "…had given help and friendship to people… strength and character of her own to the community."
With stories such as Mary's in mind and the grand scale of Teicher's art before you, it is easy to see this bonnet as a place that encloses and protects. Here introspection and discovery become the strength and character that flow outward to bear upon all human enterprise.