2018-2020 Entry Gallery Exhibit: Bob Sestok
Please Note: this exhibit is no longer on display, but to see some of Bob Sestok's sculptures in the northern Michigan region, you can visit the TART Trail on the Boardman River in Traverse City for a limited-time selection of his inspiring work.
Sestok is one of several artists who came to prominence as part of the Cass Corridor movement, considered by many as the only major 20th century art movement to emerge from Detroit.
A 2017 Kresge Visual Arts Fellow, Bob's work is held in numerous collections, and he has exhibited at the Detroit Institute of Arts, Museum of Contemporary Art (Chicago), Cranbrook Museum of Art, and Marianne Boesky Gallery (New York City), among others. Over three decades of his work can also be seen on display at City Sculpture Park, a public art space he opened in 2015.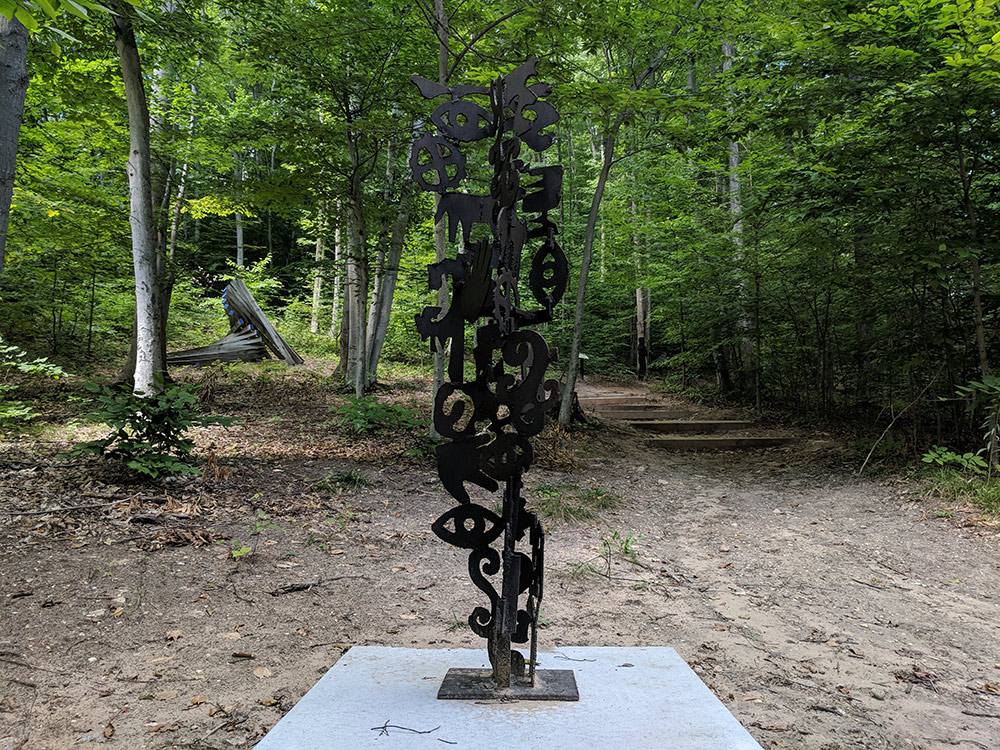 Ancient Eye
1998
Welded Steel
About the work: This piece explores the relationship between historical iconography and modern contemporary art. The artist states: "Early in my career, living and working in downtown Detroit, inspired my de-constructivist methods for creating art. The Cass Corridor art community of the 1970s, of which I was a part of, used found objects and other non-traditional materials, tearing things apart and reconstructing them. These are processes that reflected the reality of this city during this time, and still does today. This period had a profound influence on my approach to making art."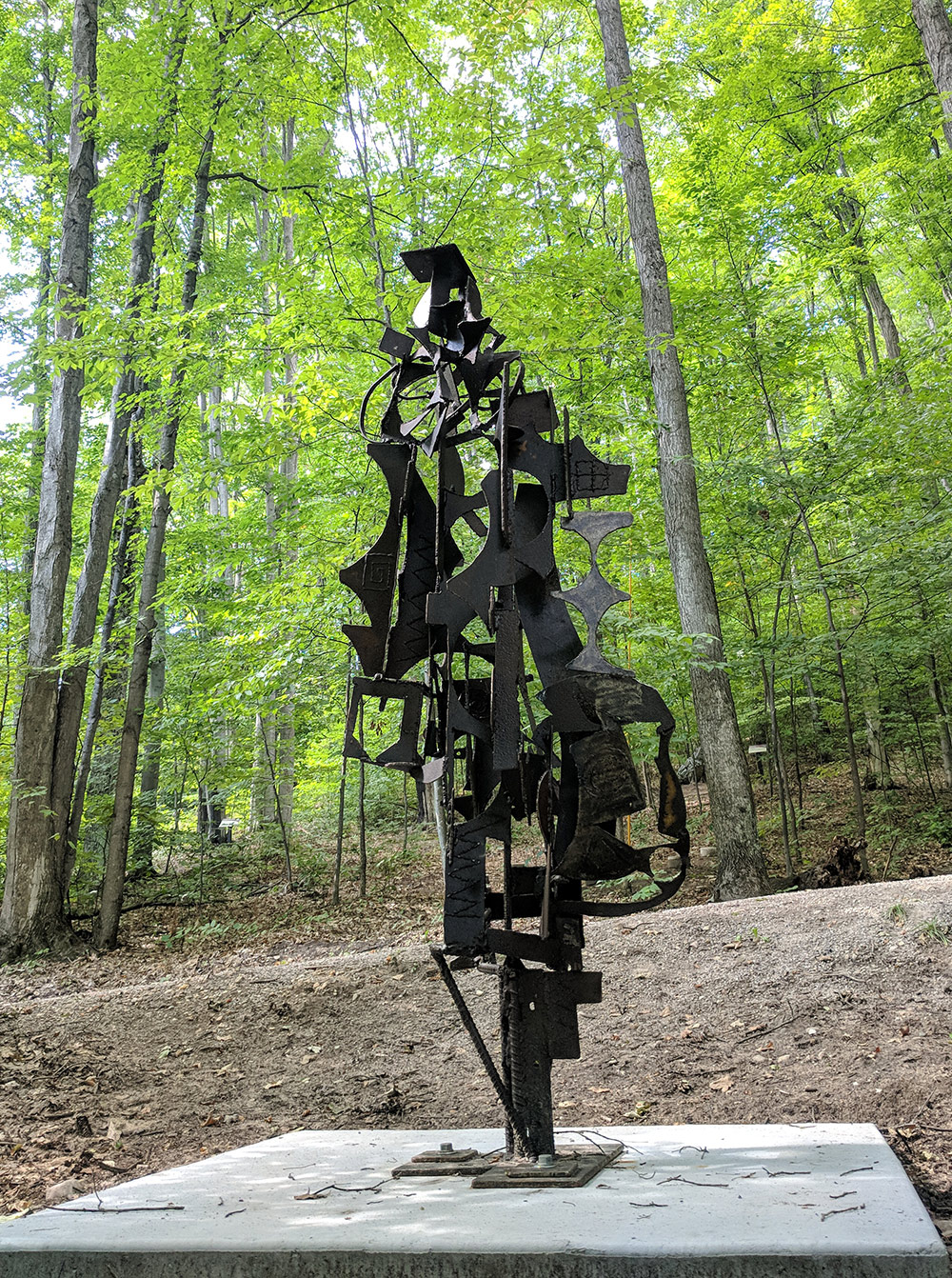 Lincoln Street
2010
Welded Steel
About the work: "I had saved metal from my childhood to create this work. The pieces used were used in constructing car parts for my 1927 Ford which I restored in 1966 and drove to California. Lincoln Street is an Art Park in Detroit where this piece was displayed from 2011 – 2017."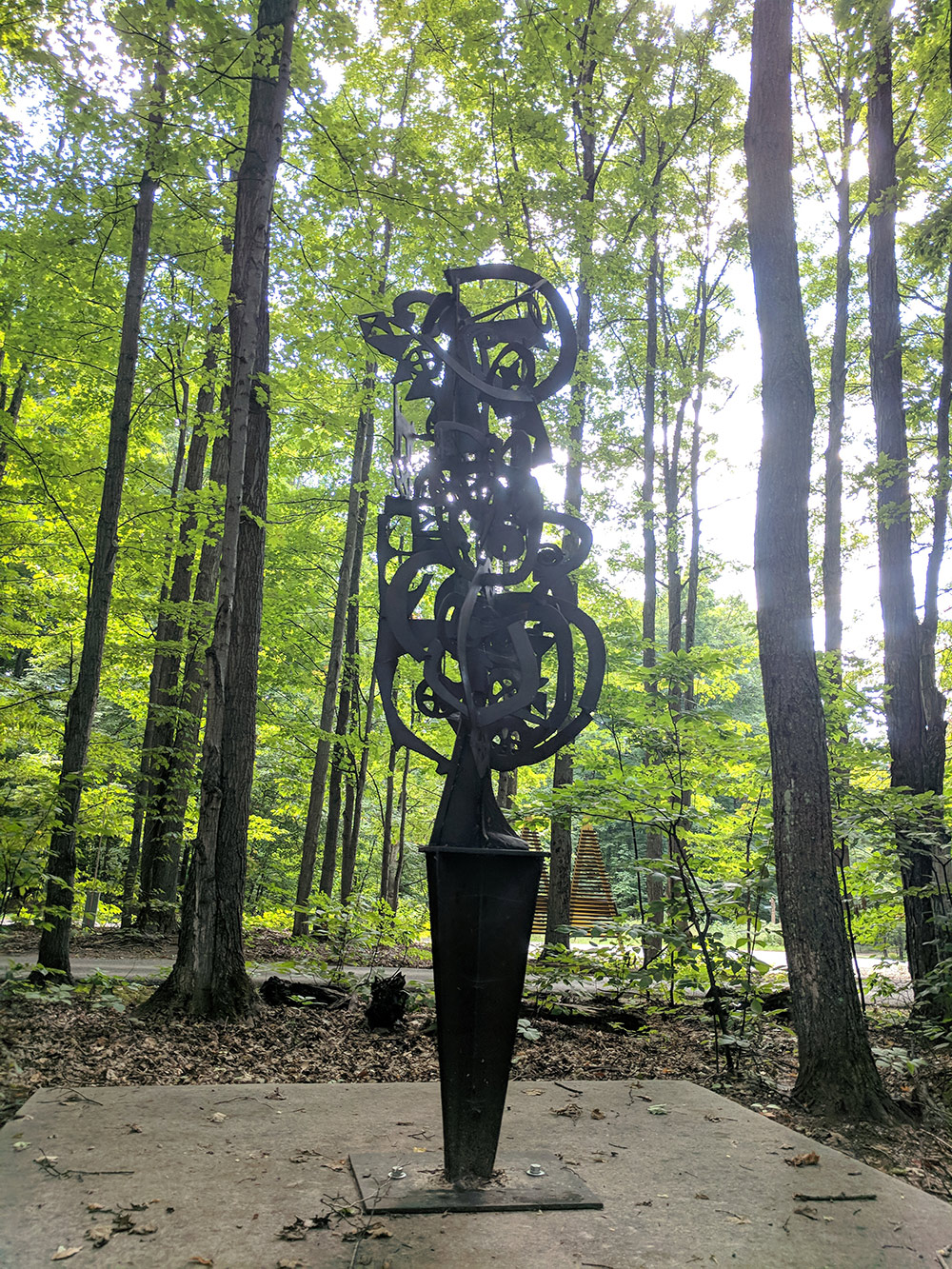 Machine Sculpture
2009
Welded Steel
About the work: This piece is an expression of the mechanical aptitude of the artist. "Sestok was part of the Cass Corridor group of artists, who had studios on the edge of the Wayne State University campus and showed at the Willis Gallery in the early 1970s. Most of these artists have scattered to other cities. But Sestok still lives and works in the Cass Corridor area. Whatever his reasons for remaining in Detroit, his works says his decision was a wise one." Excerpt from The Detroit News, "Robert Sestok: a man for all mediums," Joy Hakanson Colby, May 17, 1987.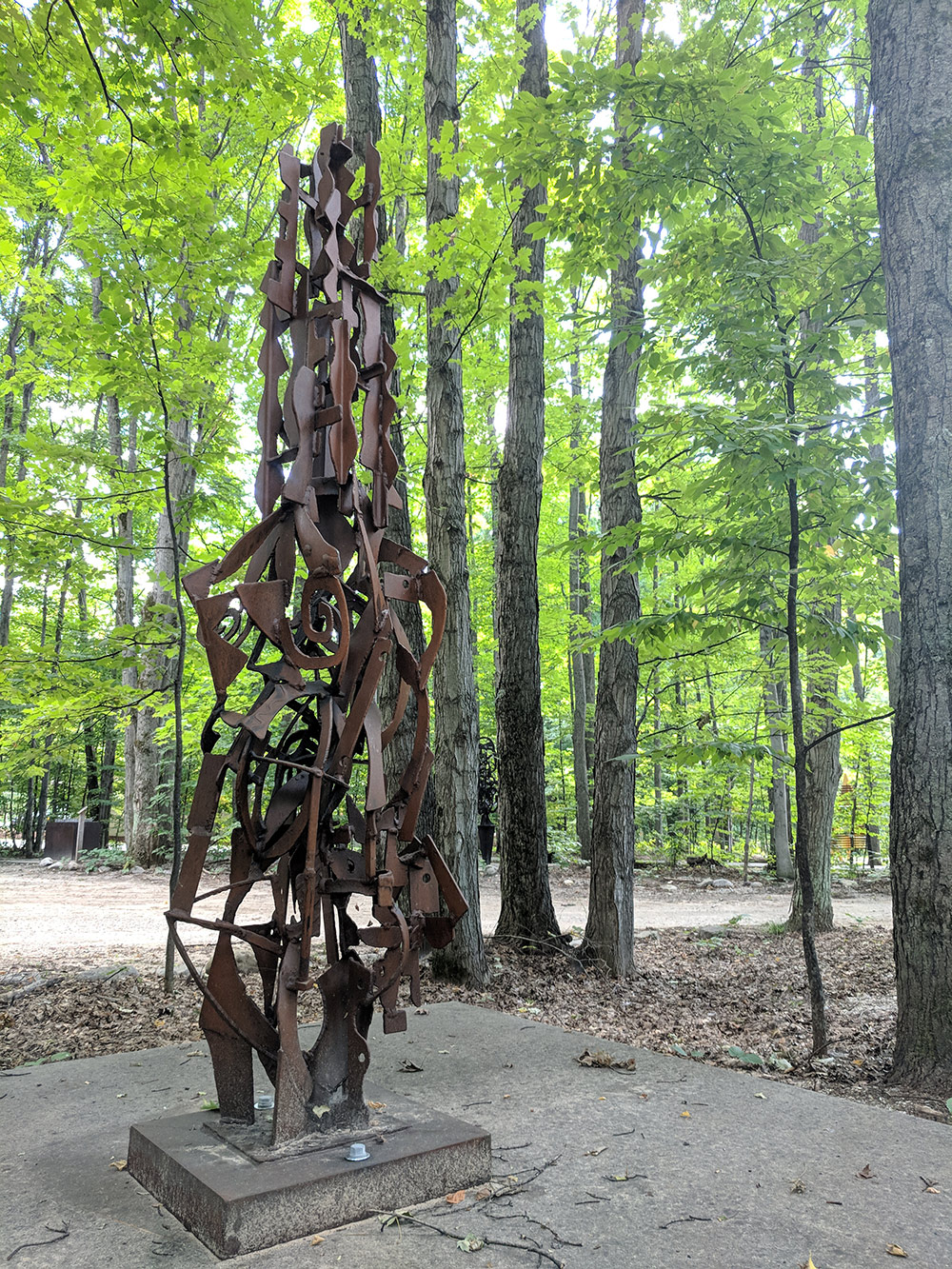 Sections
2016
Welded Steel
About the work:This sculpture is made from combinations of pieces using various parts from other works. In this piece the artist makes a discovery of two completely different sections working against one another. The artist notes: "For my sculptures, I use positive cuts for the figure (a silhouette representing Man) and negative cuts to express architecture (environmental space and its baggage). Welded metal works for this, takes me physically and spatially into the metaphor…making different objects connect…that's why I like welding. There's also a specific kind of permanency that comes with the way welded steel withstands the elements, giving extended life to the work.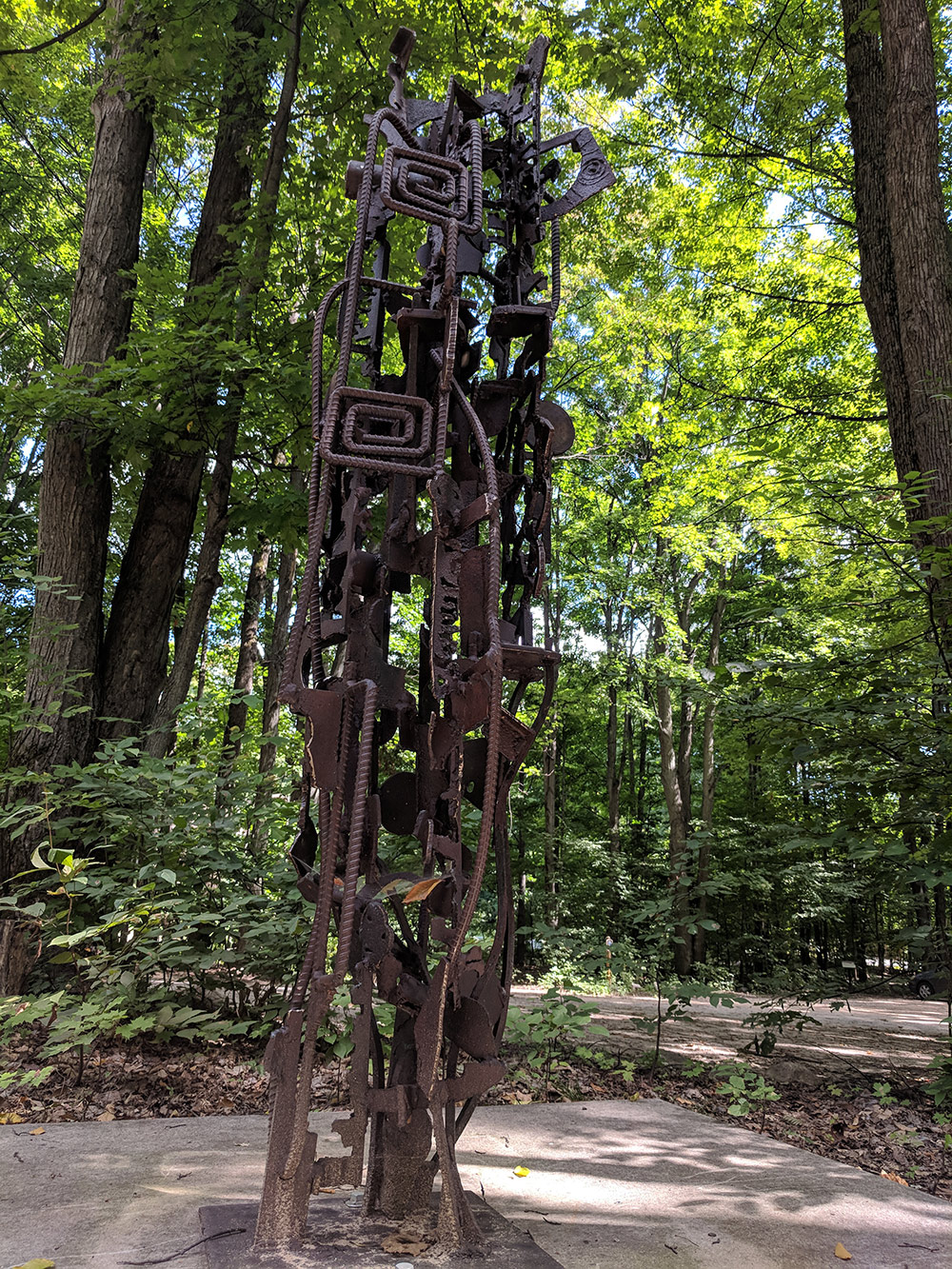 Van Brunt St.
2011
Welded Steel
About the work: This piece is a poetic arrangement combining the use of metal rods for cement work. This sculpture is an exploration combining drawing into constructing flat steel shapes. This piece was on display in Brooklyn, New York at the Kentler International Drawing Space from 2005 until 2018. "I began to investigate the influence of our surroundings on our daily lives in my work. I still spend a lot of time shifting between reality and abstraction looking for 'missing links' to expand this allegorical construct of conjoined figure/environment/abstraction," says Sestok.
---