Michigan Legacy Art Park kicks off the summer season with a special event on Sunday, May 20 from 1:00 to 4:00 p.m. This interactive and fun event is friendly for all ages to enjoy. This year's Summer Kick-off features the dedication of the Art Park's newest sculpture, Michigan, by artist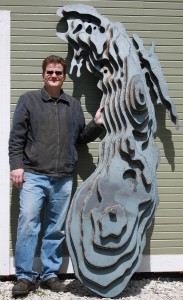 Brian Ferriby. The sculpture will be dedicated to Gov. William and Helen Milliken for their legacy of conservation and environmental protection.
The Summer Kick-off and sculpture dedication will take place at Michigan Legacy Art Park, located on the grounds of Crystal Mountain Resort & Spa in Thompsonville, Mich.
Schedule of events:
1 p.m.—Create your own flag and other art projects at the amphitheatre with artists Patricia Innis and Clarissa Wright
1:30 p.m.—Hike to the Fort for the annual raising of the flag
2:00 p.m.—Observe the sculpture dedication at the sculpture site near the Fort
2:30 p.m.—Participate in a fun bingo game or photo scavenger hunt (bring your own camera!); Tour the Art Park with a group or on your own to discover over 40 outdoor sculptures
3:00 p.m.—Interact with Art Park artists; create your own art projects; and enjoy refreshments at the amphitheatre
Boy and Girl Scouts of all ages can earn a special patch during the event after walking the trails, viewing the Michigan-inspired artwork, and completing a booklet of activities.
The Summer Kick-off is free with admission to the Art Park, $3 per person or $10 per household. In case of inclement weather, the event will be held indoors at Crystal Mountain. For more information about the Michigan Legacy Art Park visit www.michlegacyartpark.org or call 231-378-4963.