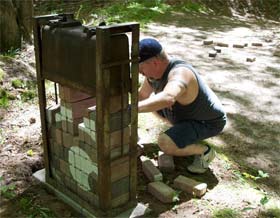 View Photos of A.M. by Kaz McCue
Artist and educator Kaz McCue installed his sculpture A.M. at the 30-acre Michigan Legacy Art Park in July, 2010. Now part of the Art Park's permanent collection of 42 sculptures, A.M. was built in 1993 of welded steel, cast iron and bricks. Originally created as an outdoor sculpture, its structural elements of its construction are intended to contrast with the natural elements of its surroundings.
"Reacting to the found object (the cast iron form at the top of the work), I utilized a combination of angular materials – bricks and steel – to create a rigid structure and weight that would help the arched line of the cast iron to stand out as a focal point" commented McCue on his work. "My inspiration for this sculpture was the idea of an oven, which to me represent change. Ovens convert things from one state to another and I found this reference intriguing as I sought to contradict nature with the work."
Later on in the history of the work, McCue added the "5" design on the bricks as somewhat of a nod to the industrial-type abstractions of
Charles Demuth
.
Since 1993 it has been exhibited in a number of venues representing a variety of settings. In 1993, A.M. was featured in Contemporary Sculpture 1993 at Quietude Garden Gallery in East Brunswick, NJ. The exhibition was juried by noted sculptors George Segal and Isaac Witkin and was also selected for an Award of Artistic Merit. Other exhibitions that this sculpture has been included are:
Outdoor Sculpture Exhibition (95-96) at Burlington County College in Pemberton, NJ,
Between The Bridges (97) at Empire-Fulton Ferry State Park in Brooklyn, NY, and
Rhapsody in Bloom Outdoor Sculpture Exhibition (05) at Luthy Botanical Gardens in Peoria, IL.
The work was also written about in the New York Times by critic William Zimmer in 1993 and by critic Burton Wasserman in Art Matters in 1996. Wasserman also discusses the piece in a video program entitled "Inner Voices / Outer Forms," which was produced by Burlington County College Media Productions in 1995.