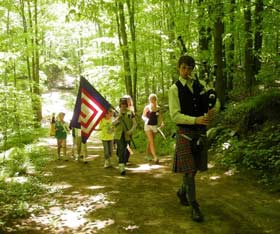 The birds are singing, the trilliums have sprung from the forest floor, and Michigan Legacy Art Park is ready to welcome visitors for its 2011 summer season.
The Art Park's annual Summer Kick-off Event is happening Sunday, May 22, 1:00 to 4:00 PM. A unique Michigan experience, the event is designed for all ages to come explore the 30-acre preserve, discover its 43 sculptures, meet many of the artists who created the sculptures, and help create a collaborative environmental sculpture.
The event will begin at the Art Park amphitheatre with a talk by nationally recognized artist, Dewey Blocksma. Following Mr. Blocksma's presentation, visitors can take part in the annual flag raising at the Park's Stockade Labyrinth while the stirring sounds of bagpipes fill the surrounding woods. In addition, Summer Kick-off attendees will have the opportunity to:
Participate in a fun scavenger hunt
Interact with Art Park artists
Assist Patricia Innis in creating the newest sculpture in the Art Park
Create their own art projects
Tour the Art Park with a group or on their own
Enjoy refreshments at the amphitheatre
The Summer Kick-off Event is free with admission to the Art Park, $3 per person or $10 per household. In case of inclement weather the event will be held indoors at Crystal Mountain.