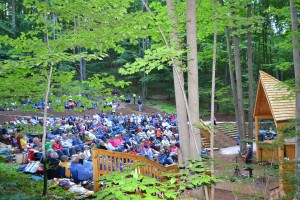 Now in its twentieth year, Michigan Legacy Art Park's Summer Sounds concerts bring a variety of acts to the park's wooded amphitheater. Providing an intimate and casual experience nestled in the hillside, concerts at the park include something for everyone. Summer 2015's offerings have ranged from the third place winner of NBC's The Voice – Joshua Davis – to three faculty from Interlochen sharing their teaching talent and musical gifts.
August brings three remaining acts to the park, diverse as can be. On August 7, Ruth & Max Bloomquist will be singing folk and Americana, with Ruth's voice compared to Linda Ronstadt, and husband Max accompanying her on stand-up bass. A double whammy weekend, Saturday August 8 will bring countertenor Terry Barber to the woods. A special addition to the concert line-up, Barber will sing a variety of songs, including many from popular Broadway musicals. Terry has sung with artists from Madonna to the London Philharmonic, and was part of the Grammy-winning group Chanticleer.
The Accidentals are returning to the Art Park on August 14 after drawing a then-record crowd in 2014. Packing the amphitheater with loyal fans, they drew almost 250 people in summer 2014. Surpassed only by Joshua Davis's July 1 concert, which drew close to 300 people, The Accidentals have added drummer Michael Dause to the group, joining Katie Larson and Savannah Buist.
Z93 FM DJ Matt Mansfield writes: "Combine musicality, originality and melodic beauty with a welcome and unexpected bite to clever lyrics and you've got Accidentals music."
An experience unparalleled in northern Michigan, concerts at Michigan Legacy Art Park are sure to provide lasting memories. Don't forget your picnic!