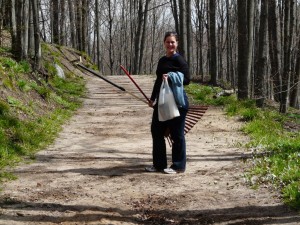 Help keep Michigan Legacy Art Park beautiful by lending a hand on May 2. Always the first Saturday in May, Stewardship Day is a great way to give back to your Art Park. Many volunteers are needed to rake around sculptures, clean sculptures, pick up sticks along the trails, spread mulch, realign the rocks that outline the perimeter of the parking lot that were moved by the snowplow, prune branches, organize the gatehouse, and more. There are many jobs for many people of all ages and abilities.
How to get involved:
• Arrive at the Art Park trailhead at 9 a.m. on Saturday, May 2 – registration is not needed
• An Art Park representative will greet you and help you choose a task and get started
• Bring work gloves, a rake, water, leaf blower, and other outdoor maintenance tools
• Expect to work no later than Noon
Additional volunteer opportunities are also available including leading tours, assisting with school field trips, welcoming visitors, staffing the new gift shop and the Summer Sounds concert series. Please contact Art Park education director, Patricia Innis, to express your interest and learn more about how you can make a difference: (231) 378-4963 or [email protected].