Share your winter story with easy-to-use black & white photo composition tips and camera tricks. Photographer Chris Bickes will lead this fun workshop. He will answer your photography questions, teach you new photography skills and give you the chance to practice in the winter landscape of Michigan Legacy Art Park on Saturday, February 2, 2013 from 9 a.m. to 12 p.m.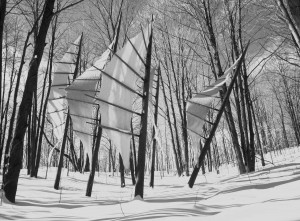 About the instructor: Chris Bickes studied with Ansel Adams and is a former instructor at the Ansel Adams Gallery in Yosemite.
Focus: Winter photo composition in black & white. Emphasis on lighting and contrast techniques. Includes workshop and Michigan Legacy Art Park sculpture walk.
Level: Beginners to intermediate; smart phone, point and shoot or digital SLR cameras.
Location: Meet in the Crystal Center at Crystal Mountain at 9 a.m., a sign in the lobby will guide you to the room where the indoor portion of the workshop will be held. Midway through the session, the group will go to Michigan Legacy Art Park to practice photography and snowshoe.
Fee: $85. Includes tour, workshop, "tips" guide and a camera tune-up.
Reservations are required by January 30 by calling (231) 378-4963.
Workshop participants also receive a 10% discount on Crystal Mountain lodging. Call (231) 378-2000 to make your lodging reservation. A Crystal Spa coupon will also be a perk for participants!
Participants must bring their own snowshoes. Snowshoe rentals are available at Crystal Mountain at the Park at Water's Edge. Call 231-378-2000 ext. 7000 for snowshoe rental information.