Michigan Legacy Art Park presents its Summer 2014 season of entertainment and educational programs with something for everyone!
The annual Summer Sounds series offers five outdoor concerts beginning July 11 with The Accidentals and concludes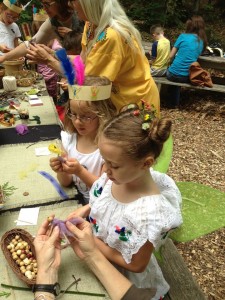 with nationally renowned jazz duo Miriam Pico with David Chown on Aug. 8. Enjoy the relaxed atmosphere and great music with friends and family. Come early to hike the Art Park and consider bringing a picnic dinner. All concerts take place on Fridays at 7 pm at the outdoor amphitheatre. Suggested donation is $10, and free for children 17 years and under. All proceeds directly benefit the activities of the Art Park. Golf cart shuttles are available for those unable to walk the trail. Light snacks and beverages are available for purchase at each concert. New in 2014 is the option to purchase a custom gourmet picnic dinner for two delivered to you at the concert. Call Crystal Mountain at (231) 378-2000 ext. 5000. Pricing starts at $24.95.
The Art Park's Summer Kickoff event, Fairies and Forts, will be held on Saturday, June 21 from 2 to 5 p.m. Children of all ages are invited to use their imagination in a natural setting to create their own fort or fairy house, flower tiaras, fairies, flags, and drums from found objects. Materials and light refreshments will be provided.
Photo Fun is an opportunity to learn about photo composition while touring the park with five sessions that begin July 1 at 10 am. See park website for additional dates, times and cost.
Additional workshops are offered by artists and naturalists and take place throughout the summer. Among these are: Community Art Project with artist-in-residence Kaz McCue; Sketching in Nature; Logging in Benzie; Women in the Park; and Hemingway in Michigan.
For those wanting to visit the Park but who are unable to hike the hilly terrain, golf cart tours are available.