Michigan Legacy Art Park Accepts New Sculpture Proposal by Artist Eric Troffkin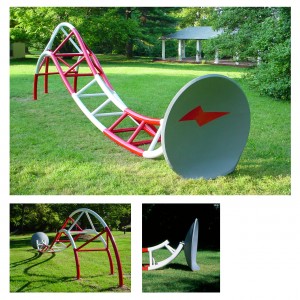 Thompsonville, Mich. – Michigan Legacy Art Park is proud to announce that a proposal for a new sculpture has been accepted by the Art Park board of directors. The sculpture proposed by Eric Troffkin, professor of sculpture at Wayne State University, will be the next major work of art installed in the Art Park. Titled Communications Vine, it will be an appropriate extension of Troffkin's current body of work inspired by the form of towers that stretch up to the sky sending and receiving signals that allow people to communicate with each other around the world. As more and more communications towers dot our landscape, Troffkin was drawn to the idea of the towers sprouting and growing like plants. Kneeling, shown right, is a sample of a previous work by Troffkin along a similar theme.
The mission of Michigan Legacy Art Park is to inspire awareness, appreciation and passion for Michigan's history, culture and environment through the arts. When Troffkin learned of Michigan Legacy Art Park and the unique landscape for art installation, he developed a proposal for the Art Park during his recent sabbatical. Communications Vine will spark conversations about the strong history of Michiganders as inventors and makers and the contrasts of Michigan – a place where massive industry meets wilderness.
"The collection committee was happy to receive such a well-composed and thoughtful proposal from Eric and even more pleased when we easily agreed to recommend it to the board for approval," recalled Patty Pelizzari, chair of the art collection committee. "His piece will provide a fresh, forward-thinking perspective of our state."
Once funding is secured to cover the cost of materials and the artist fee, Troffkin will begin installing the work in sections – so that it grows over the course of the coming year. Support is needed now to make this new work of art a reality. Donations can be made to Michigan Legacy Art Park on MyNorthTickets.com or by check made payable to Michigan Legacy Art Park, 12500 Crystal Mountain Drive, Thompsonville, MI 49683. For more information about Michigan Legacy Art Park and the sculpture collection, visit michlegacyartpark.org or call (231) 378-4963.
Artist Statement: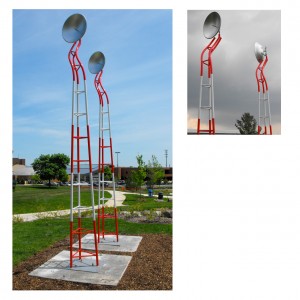 Communications Vine is a project that continues my interest in communications equipment. Making sculpture is a way for me to investigate this interest – I see red and white towers and other kinds of communications technologies, like satellite dishes, everywhere. They sprout from building rooftops and alongside highways in a way that feels very plant-like to me. But they are also clearly technological; they must be engaged in some important activity, communicating messages and data back and forth. Windblown, shown right, is another example of Troffkin's work.
The idea of building sculptural form that feels in part technological and in part naturalistic is compelling to me. It is easy to feel that natural, wild things and the things that we make in industry, technology, and commerce are very different, but it's a conceit to separate them. An idea of the "natural" that excludes us is inaccurate, and an idea of industry, technology, and commerce as things we can have perfect control over is also inaccurate. Communications Vine renders a technological object in a way that can be understood as naturalistically variable, both through its form and through the "performance" of its staged installation.
Michigan's industrial history and the history of its natural resources are also layers of inspiration for this project – like the sculpture, Michigan is a hybrid, with industrial and technological aspects and aspects rooted in its natural landscape. I think of my reference to communications equipment in this project as one possible focal point through which the larger issue of our status as makers and inventors of things can be addressed. And I think of the form of a vine in this project as a way of accessing the ideas of nature and wildness. Michigan occupies a profound place in the history of world industry, technology, and commerce. Discussions of our industrial and natural/ecological futures are ongoing here. Through this sculptural project, I am trying to add to this discussion and to ask if our industrial and technological activities might follow natural patterns, or exhibit forms of wildness.
About Eric Troffkin
Eric Troffkin joined the faculty of the Department of Art and Art History at Wayne State University in Fall 2009. He received his MFA degree in Sculpture from Cranbrook Academy of Art and a BA degree in Fine Art and English Literature from Amherst College. Eric's previous teaching appointments include Lecturer in Sculpture at the University of Wisconsin-Madison, 2000-2002, and Visiting Assistant Professor at Washington University in St. Louis, 2002-2009. At Washington University Eric served terms as Sculpture Area Coordinator and Director of Graduate Studies. As Director of Graduate Studies, Eric oversaw a transition in the MFA curriculum to a multidisciplinary format, to encourage artistic dialogue and collaboration across media and fields of inquiry.
About his artwork, Eric writes, "My interests lie at a crossroads where expectations of future progress encounter these uncertainties: can the consequences of progress be foreseen? is the notion of progress itself a matter of faith? and if so, upon what foundation is such faith built? My artworks mark and investigate this crossroads. They are pieces of fiction, fabricated from the familiar visual language of the commercial products and industrial objects that inhabit our architecture and dot our urban and rural landscapes. Through the reproduction and alteration of such technological objects into sculptural form, I aim to provide a focal point for considering their psychic impact."
About Michigan Legacy Art Park
Located on the grounds of Crystal Mountain, Michigan Legacy Art Park, a 501(c)3 non-profit organization, offers an unparalleled experience of art, nature and history. Forty-five major works of art line 1.6 miles of hiking trails that wind through a thirty-acre preserve of wooded hills. The Art Park inspires artists to create sculptures that interpret Michigan's history. The Art Park is a unique learning, cultural and recreation destination.
Michigan Legacy Art Park is supported in part by a grant from the National Endowment for the Arts and Michigan Council for Arts and Cultural Affairs.