Tour Michigan Legacy Art Park in the winter to view the sculptures from a new perspective.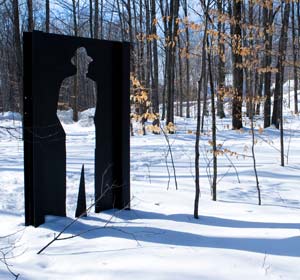 Knowledgeable tour guides will lead hikers across hilly terrain to view over 20 major works of art. The tours kick off on World Snow Day – January 22.
Tours last about one hour. Be prepared for current winter conditions.
Bring your own snowshoes. Limited rentals are available at Crystal Mountain at the Park at Water's Edge. Call (231) 378-2000 ext. 7000 for snowshoe rental information.
$5 recommended donation (except where noted)
Sunday, January 22 10:30 a.m.
World Snow Day. For a list of all activities, visit: crystalmountain.com/events/world-snow-day
Saturday, January 28 10:30 a.m.
Saturday, February 4 11 a.m. – 1 p.m.
Snowshoe d'Art ($10/person)
This fun event is part of the Women's Winter Tour weekend and is a fundraiser for Michigan Legacy Art Park. Pre-register at: womenswintertour.snowshoedart.com
Saturday, February 11 10:30 a.m.
Saturday, February 18 10:30 a.m.
Saturday, February 25 10:30 a.m.