Visit Michigan Legacy Art Park anytime, and you simply cannot miss Fallen Comrade, Michigan artist David Greenwood's interpretation of the famed The P-51 "Red Tails" that served as the distinctive insignia of the Tuskegee squadron. Prior to the service of the Tuskegee Airmen, no black pilots had been allowed in the ranks of the U.S. Army Air Corps. This sculpture prompts us to remember those who fought for our personal and national freedom even as they were denied much of their own here at home.
Many of these pilots returned after the war to reside in Michigan, and even now, many decades later, racial justice and civil rights remain a complicated and urgent battle for African Americans living in Michigan and around the country.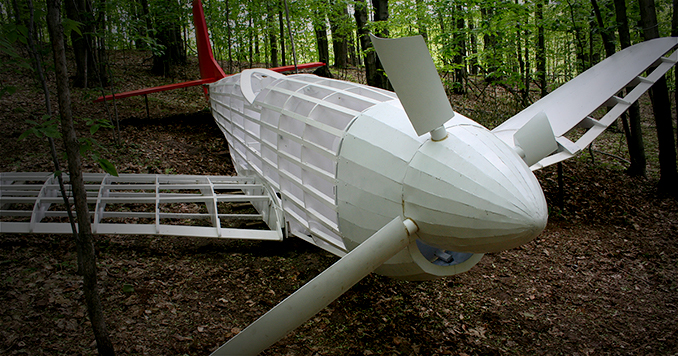 Fallen Comrade by David Greenwood
Local history expert, Brian McCall shared some of his thoughts with us on the importance of this sculpture in light of the significant history of these brave men:
"These times call for courage and few examples from our history shine brighter than the bravery and strength of the Tuskegee Airmen. Men who had to beg to fight for their country and had in effect to fight two enemies; the Nazis who would have plunged the entire world into the darkest evil, and some of their fellow Americans who resisted any thought that a black man could love America and fight for its ideals of freedom and equality."
"Faced with official obstruction, blind prejudice and petty insults, the Tuskegee Airmen stood firm in their belief in themselves and their commitment to defend America. These college educated young black men passed the same tests and underwent the same high level of training that all Army Air Corps pilots faced. Flying their P-40s, P-47's and P-51 fighters in the skies over Europe, they fought off the best of the Luftwaffe, shooting down scores of enemy planes and saved the lives of hundreds of bomber crewmen as they escorted them to their targets and then home. They also flew many low level fighter sweeps over Nazi occupied territory, braving curtains of deadly flak to support our troops on the ground, again saving the lives of thousands of Americans."
"We were fighting for the 14 million black Americans back home. We were there to break down barriers, open a few doors, and do a job."– Maj. Joseph P. Gomer, USAF (ret) and member of the Tuskegee Airmen
"Back at their bases both in Europe and stateside, the Tuskegee Airmen were met not with respect or thanks for the service, but instead raw racism, systematic segregation and utter contempt by many of their fellow Army Air Corps officers and commanders who saw their skin color as the only quality that counted. When the war in Europe ended, the Airmen continued to fight the longer war against unfair treatment and racial bigotry. Thanks to their efforts and steadfast resistance to inequality, President Truman cited their outstanding war record and courage facing two enemies when he signed the executive order to integrate the armed forces in 1948. Like their African-American contemporaries, Duke Ellington, Joe Louis, Marian Anderson, Jackie Robinson and countless others, the Tuskegee Airman showed true bravery in standing up for their rights as full American citizens in a time of great national crisis."
Brian McCall is Instructor of History and Political Science at Interlochen Arts Academy and adjunct American History instructor at Northwestern Michigan College.