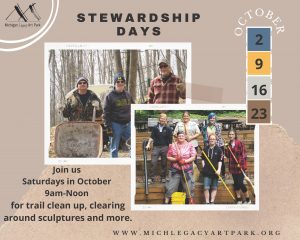 Stewardship Days – First 4 Saturdays in October
Oct 2, 9, 16, 23
9:00am – Noon
Michigan Legacy Art Park Stewardship Saturdays in October: Join us on any of the first 4 Saturdays in October from 9am to Noon to help with fall clean up!  We are still working hard to remove small brush and debris from the devastating June 9th windstorm that toppled many trees. If you can join us, please bring a yard/garden rake and work gloves. If not, we have tools too.  Meet at Park Trailhead on any (or all dates!) and let's make a difference!
How to get involved:
Arrive at the Art Park trailhead at 9 a.m– registration is not needed but is helpful.  You can send a quick email to kerry@michlegacyartpark.org or you can submit the Volunteer Interest Form here.
An Art Park representative will greet you and help you choose a task and get started
Bring work gloves, a rake, water, leaf blower, and other outdoor maintenance tools
Expect to work no later than Noon – and stop by even if for only an hour. Every little bit helps.