---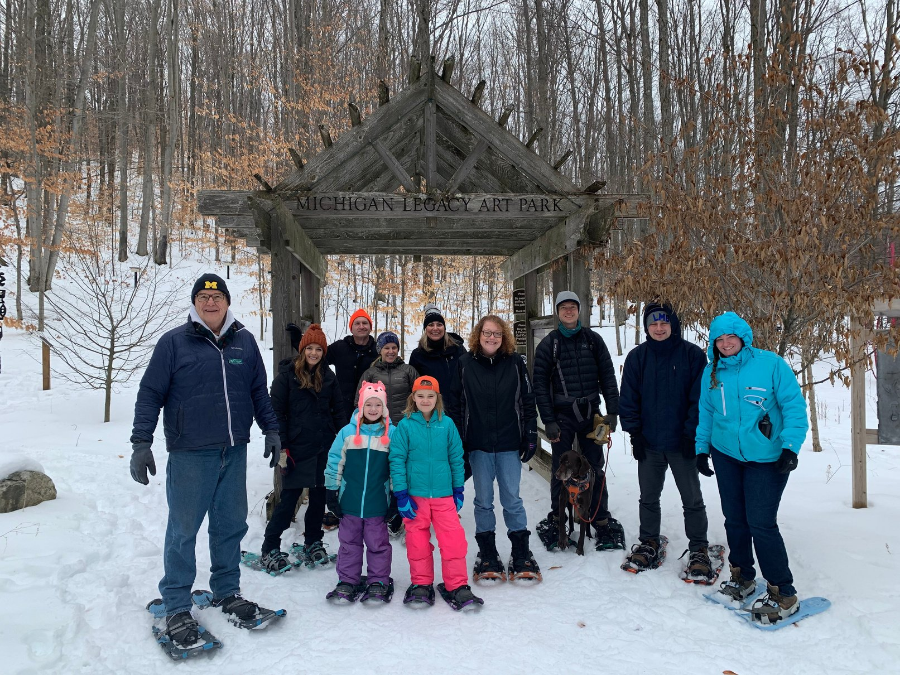 Winter Hiking at the Art Park
Winter is a wonderful time to explore Michigan Legacy Art Park! Snow offers a new challenge to the terrain and a fresh perspective to the art.
The Art Park is open for snowshoe hikes every day, all winter.
SPECIAL GUIDED TOURS:
NEW YEAR'S DAY – Jan 1st
Join Michigan Legacy Art Park for invigorating tour on January 1st.  Enjoy the tour led by Executive Director Angie Quinn as we hike over hilly wooded trails to view the sculptures in the Art Park.  Tour is free with $10/admission fee to the park,  youth are free. Cash or credit card are accepted at trailhead. Simply join us at the trailhead at 11am!  More info here.  We will hike, wear appropriate footwear. (You are welcome to bring snowshoes if you'd like too.) Any questions, please email [email protected].
SNOWSHOE FOR BEGINNERS
Special Saturdays at 10am
Dec. 31, Jan. 7, Jan. 14, Feb. 11, Feb. 18
Enjoy a guided tour of Michigan Legacy Art Park with snowshoes!
$20 includes Crystal Mountain snowshoe rental and Art Park entrance fee
Arrive at 9:30am for snowshoe rentals at Park at Water's Edge at Crystal Mountain to register for tour and size snowshoes. Tours begin at 10am. More info here.
Important Guidelines
Sections of the Art Park trail are shared with x-country skiers from Crystal Mountain.
For the safety of all, we ask all snowshoe hikers to please follow these important guidelines:
Always be aware of x-country skiers. They move quickly and quietly.
Skiers always have the right-of-way. Please move aside to allow skiers to pass.
Please keep to the side of groomed ski trails whenever possible.
Absolutely no boot hikers are allowed on groomed ski trails. Please use snowshoes for winter hikes.
---