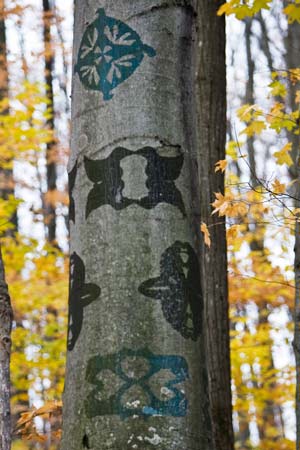 Sadly, due to beech bark disease that has spread throughout northern Michigan forests, the beech tree Clan Symbols was painted on had to be cut down. 
"Art communicates before you understand."  T.S. Elliot.  While certainly relevant to the entire Park, this statement seems particularly appropriate in the context of Lois Beardslee's Clan Symbols.  Here images are created in the way of the ancient Ojibwa.  The 4-way mirror images of animals are created by folding and cutting thinly-peeled bark that is then used as template to transform the image to the highly valued porcupine quill work and other items created by the Ojibwa.
Much is known today of the Ojibwa and their many clans that formed as they moved from their aboriginal homeland north of Lake Superior to populate the areas now known as the Canadian Shield, from the Hudson and James Bays in the east through Saskatchewan and Manitoba in the west.  To the south the tribe spread through Minnesota, Wisconsin, Michigan and later made forays to the U.S. southwest in successful campaigns against the Dakota and the Cheyenne.
After reading the paragraph above, you know something of the Ojibwa history.  This learning is valuable, but how much understanding is there in this knowledge?  The only information being exchanged is factual.  The communication that leads to understanding lies in the art Beardslee has brought to the forest.  Here we see the stuff dreams are made from.  Dreams where spirits in the form of animals brought life's power to the dreamer.  Understanding begins when we recognize in Clan Symbols our own wonder at dreams and reflect on the great significance given to their interpretation by many cultures throughout history and around the globe.  Notice that the symbols are made by repetitions of the shapes of animals similar to folded snowflakes.
Lois Beardslee
Native American storyteller, Lois Beardslee, is author of the LEELANAU EARTH STORIES, a collection of Native American stories for children. She performs, teaches and demonstrates traditional arts to thousands of people each year at museums, schools and universities.
Beardslee is currently one of only two Native artists alive who still create traditional Ojibwa birch bark cut-outs. These are dying art forms, practiced by only a few.
Beardslee's paintings and limited edition prints exemplify contemporary Woodland Indian style, while embracing traditional lifestyles and symbolism. She has work in public and private collections worldwide. She is one of the "Sisters of the Great Lakes" and is a member of the Great Lakes Indian Artists' Association. Her father is Lacandon and her maternal grandmother is Ojibwa. Raised in northern Michigan, Beardslee is a cherry farmer in Leelanau County.