Thanks to the wonderful support of all who attended, sponsored, volunteered and made donations, the 2017 Legacy Gala was a lively event and a great success. Nearly $50,000 (net) was raised to support our mission!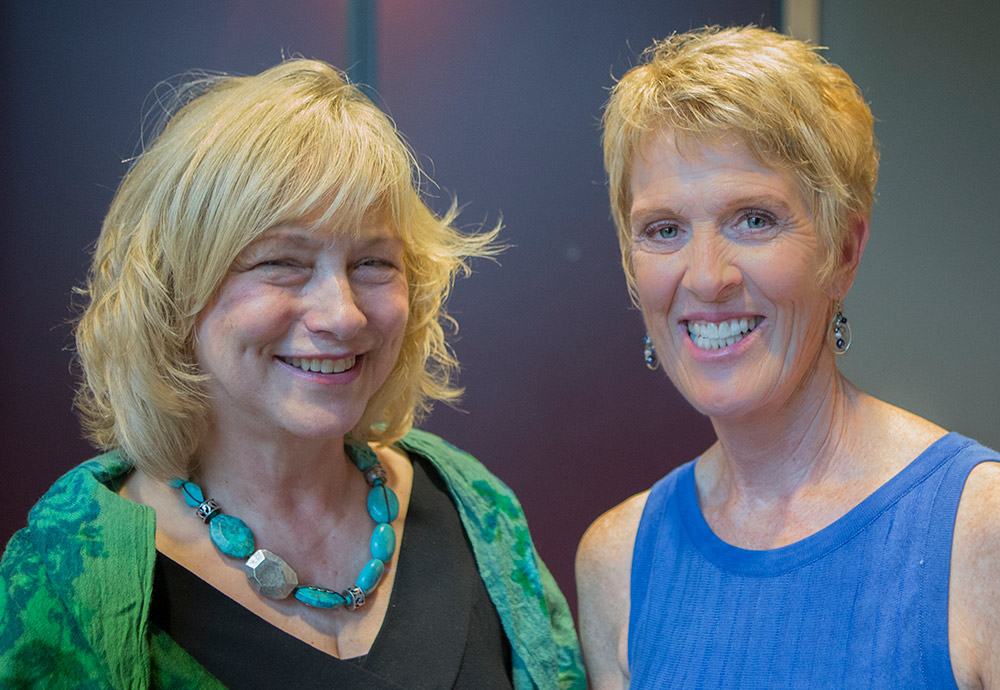 The Crystal Center at Crystal Mountain was once again a perfect home for our gala. L. Mawby provided sparkling wine for the reception, and guests enjoyed visiting with friends old and new.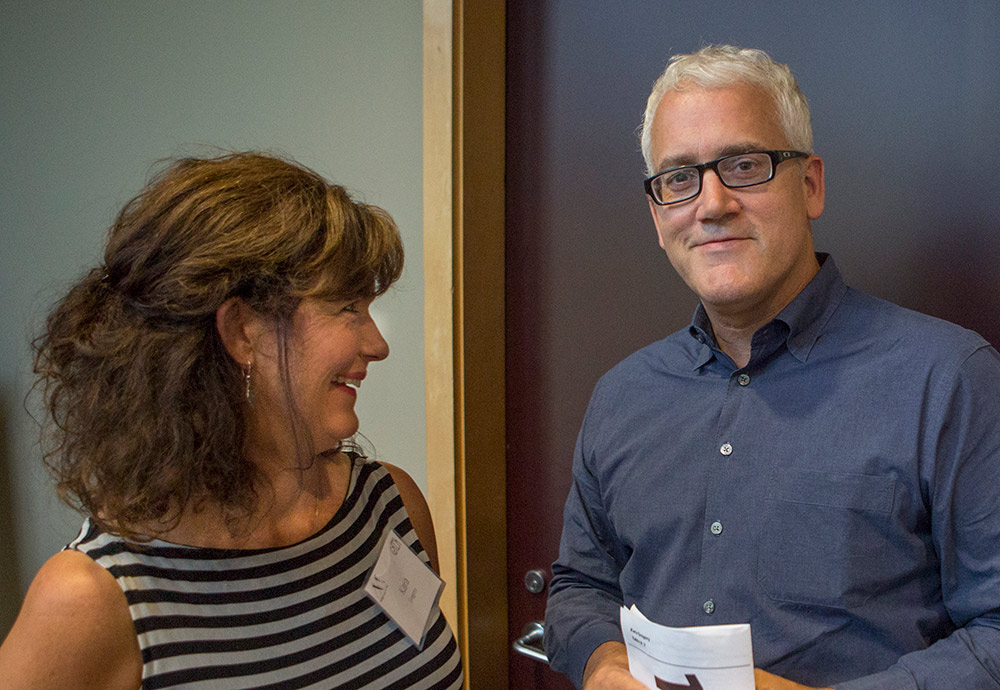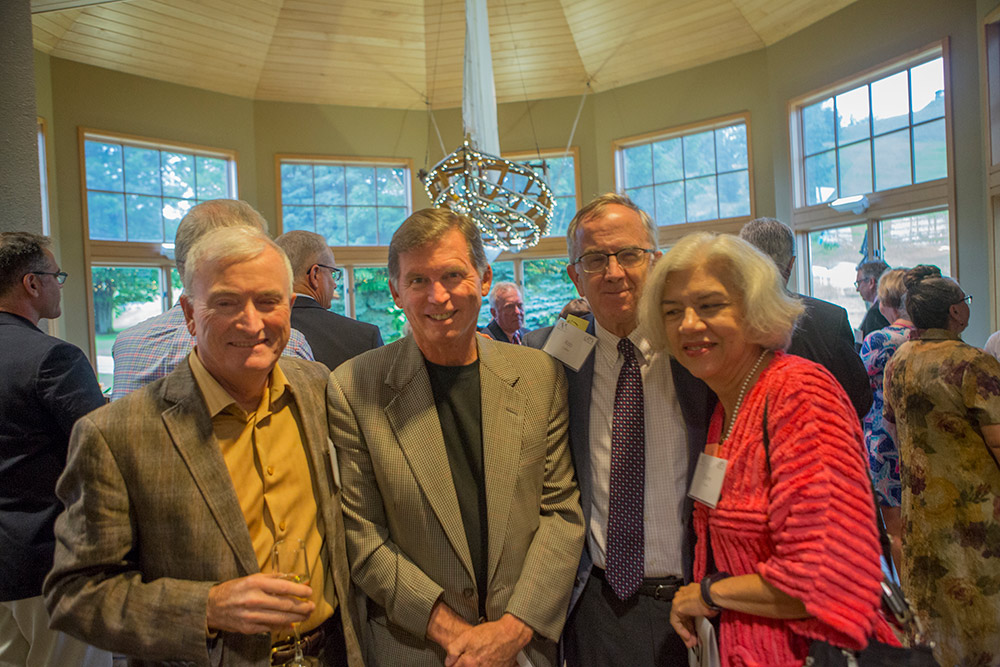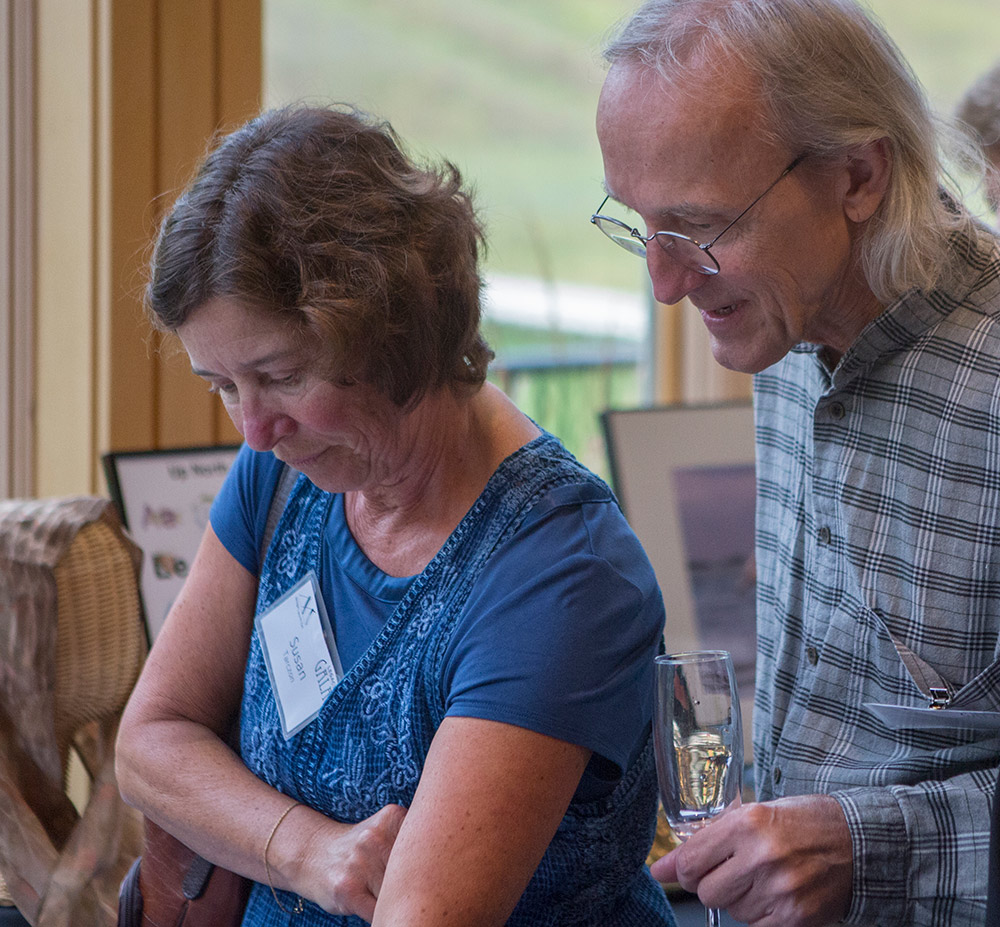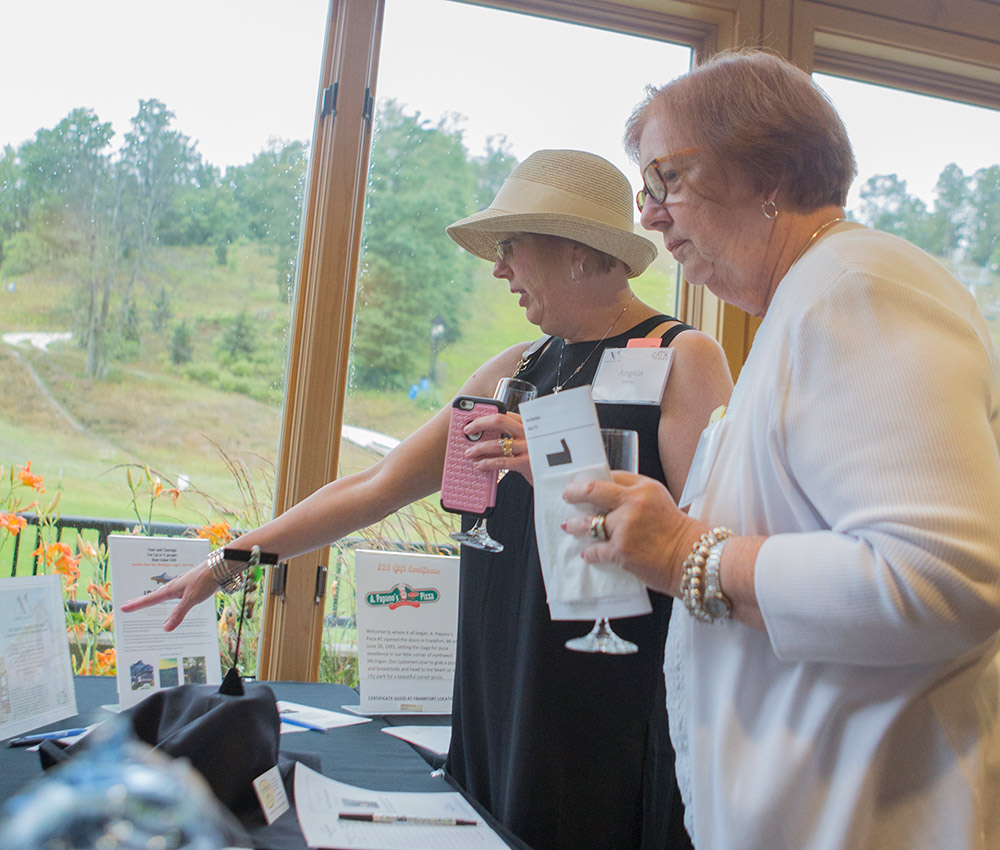 Over 100 silent auction items were donated by local artists, businesses and individuals in support of the cause. Lucky bid winners walked away with some fantastic dinners, experiences, art and more.
Laurie Sears duo delighted throughout the night, providing a fabulous soundtrack for the event. What a pleasure to have such a well-known and talented jazz musician play for the Legacy Gala.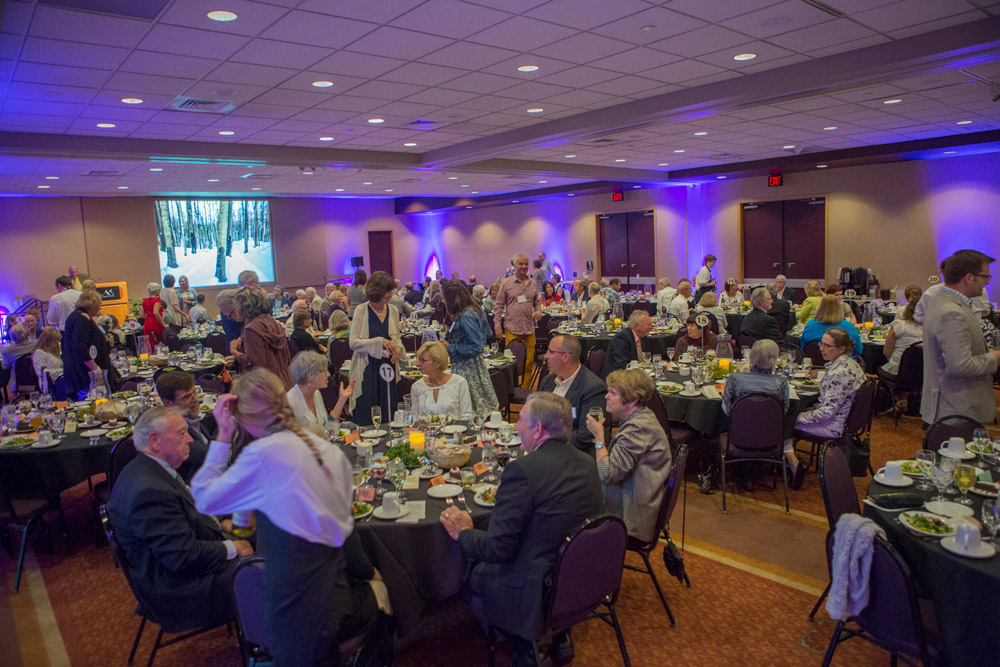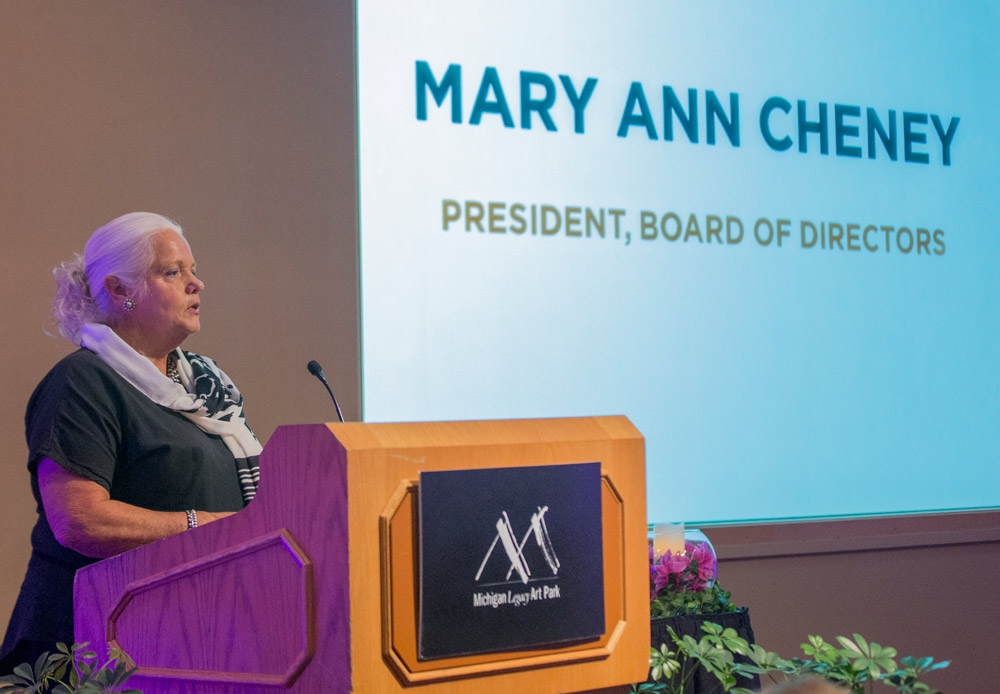 After a wonderful dinner prepared by Crystal Mountain with wine provided by Black Star Farms, Art Park board president Mary Ann Cheney and Executive Director Renee Hintz addressed the audience with gratitude and shared some of the wonderful things happening at the park.
During the special appeal, guests generously contributed in support of Art Park education programs. Each year, hundreds of students in the region explore the Art Park on school field trips and have experiences with art and nature that can shape their view of the world. Over $16,000 was instantly donated for these important programs! It was really moving to witness the generosity of those in the audience that night.
Finally, our guests of honor were presented the 2017 Legacy Award after viewing a tribute video about their life work. Doug and Anne were so gracious as they shared their own passion for the region, writing and literacy. They also shared a poem that reminded them of their experience at Michigan Legacy Art Park.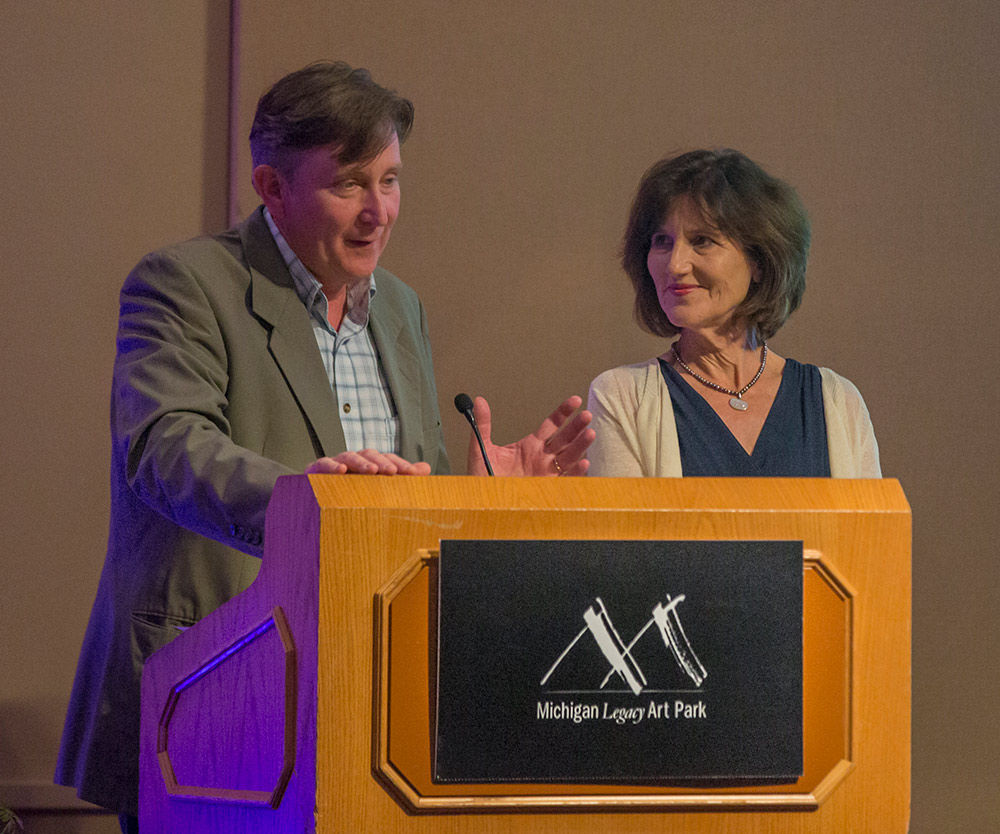 A final "Thank You" to our 2017 Legacy Gala Sponsors
Stockade Labyrinth Sponsors
Bob & Jane Holdeman
Mark Payne & Mary Mueller
Maree & Jim Mulvoy
Rich & Sue Smith
Five Needles Sponsors
Diversity Sponsors
Martin & Valerie Cotanche
Tom & Julie Dawson
Kathy & Harry Eiferle
Ed & Carol Laprade
Patty Pelizzari
Dick & Carol Thompson
Marilyn Wheaton & Paul Duffy
Mo & Linda White
Diane Wilbur & Jim Szalay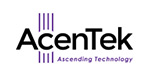 Ontonagon Sponsors
Chuck & Georgia Bavol
Mary Ann Cheney & David Mix
Ward & Mary Gillett
Dennis & Alyce Helfman
Kathryn DenHouter & Jim Jackway
Charles Keeling
Kennari Consulting
MoneyFit
William & Martha Paine
Jack & JoAnn Pope
Portland Building
Bill & Mary Smith
Terry & Michael Tarnow
Traverse Tax and Accounting
Kent & Nancy Walton
Watson Benzie
Ima Williams
---
Steering Committee
Wes Blizzard, Auction Solicitation
Jenny Habecker, Auction Administration
David Mix, Live Program
Maree Mulvoy, Sponsorships
Rich Smith, Raffle
Judy Williams, Logistics
Mary Ann Cheney
Julie Dawson
Thomas Dawson
Kathryn Den Houter
Katharine Eiferle
Zach Hegg
Courtney Jerome
Deona Paine
Mark Payne
Jack Pope
JoAnn Pope
Terry Tarnow
Harriet Wall
Linda White
Maurice White
Event Volunteers
Carolyn Burrus
Diane Collier
Deborah Crandell
Harry Eiferle
Joy Kennedy
Vance Marshall
Alan Newton
Russell Smith
---
---
Auction Item Donors
A. Papano's Pizza Frankfort
Aaron Stander
Alan Newton
Anet & Ollie's Five & Dime
ArtInside
Artofglass
Baabaazuzu
Barbara Melichar
Bay Wear
Beachnut Surf Shop, LLC – Frankfort
Becky Thatcher Designs
Bill Allen
Black Star Farms
Chateau Chantal
Cherie Correll
Cherry Hut
Cool Spot
Copemish Hardware & Autoparts
Crystal Crate & Cargo
Crystal Gardens
Crystal Lake Adventure Sports
Crystal Lake Alpaca Farm & Boutique
Crystal Mountain
Dan Gerdeman
Dan Lisuk
Delbert Michel
Dennos Museum Center

Dick Davis
Dinghy's Restaurant & Bar
EL Bertos Taqueria
Family Markets – Copemish & Honor
Frankfort Garden Theater
Frankfort Hardware
Friends of Art Park
Gail Leone
Grand Hotel
Gwen Frostic Prints, LLC
Harriet Wall
Hull's of Frankfort
Iron Fish Distillery
Jackleens Jems
Jerry Gates
Jerry Gretzinger
Joan Richmond
Kathy Lyons
Kilwins Frankfort
L'Chayim Delicatessen
Lilac Tree Suites & spa
Lisa Musgrave, DDS
Luke Adama Glass
Luna Boutique LLC
Market Basket
Meg Staley Hand Made
Michael Mumford
Mon Chapeau
Morsels Expresso + Edibles
Nathan Goldberg
Oliver Art Center

Oryana Natural Foods Market
Paul Welch
Pier Fun
Pinkie Finger Press
Port City Smokehouse
Rosalyn Tyge
Sergio DeGuisti
Sheryl Langdon
Skydive Charlevoix
State of the Art Framing & Gallery, LLC
State Theatre
Stormcloud Brewing Company
Sunbeams of Promise
Suzy Voltz
TentCraft
Terry Tarnow
The Bookstore
The Glenwood
The Lighthouse Caf̩ РElberta
The Roadhouse, Inc. – Benzonia
Tom & Julie Dawson
Toy Town of Cadillac
Traverse Tall Ship Company
Victorias Floral design
Wes Blizzard

---