On August 12 we welcome some new talent to the Summer Sounds concert series!
Nashon Holloway is a Kalamazoo artist who recently relocated to Chicago for the next steps in her personal and artistic Journey. Her band incorporates jazz styling with folk sensibilities to create a unique sound infused with funk and soul.
Nashon Holloway Band's album "The Palace and the Hut" was called "a powerful debut" by Local Spins, and named one of the top five west Michigan releases in 2016 by Revue magazine.
Tickets are available online right now, and also at the door Friday night.
Summer Sounds: Nashon Holloway Band
Saturday, August 12, 2017
7:00pm
Adults: $10; Kids 12-and-Under: Free
Buy Tickets
---
We are so excited to have you here in northern Michigan. Have you had a chance to perform "up north" before?
I've been to Cedarville before, but only recently have I performed in Mackinac and places like that. I'm so glad I'm from Michigan—nature is healthy and dope.
What's your musical background? Your style sounds like you may have had some technical jazz training.
I really haven't had any technical training, just hands-on experience. I grew up singing around the house with my mom and siblings, and then I was hooked, basically since birth.
I did spend some time studying English and Philosophy at Western Michigan University. I auditioned for some music courses as a non-major and got in, like the Gold Company Vocal Jazz program—but yes, I'm a jazz kid. I seriously think it's mostly because my dad has great taste in people and music.
Your voice has a lot of emotion. What are you feeling when you perform?
I'm just being true to the moment.
It is going to be a real treat to have your full band perform here at the Art Park. How did this group come together?
We all went to Western and played together a lot, because that's what you do. There's always a hub of musicians who know each other in cities, and it's even more close-knit when you're studying together in school. Eventually, we just kind of knew. I don't think they were expecting to be on the cover of the album, so for me, that was my way of letting them know I never thought of this music thing as a solo. They are amazing people and players.
It's most musical to me if I support and challenge them as much as they support and challenge me. It's especially exciting to have two drummers, Keith Hall and Mike Porter, who are a pinch older than us—willing to play and share ideas from the heart. They've been at this a while, and to have them dig into our tunes and bring themselves to it always gets me hype, because I mean, they have families. They wouldn't waste their time if it had no meaning to them. Plus! They crush the kit every single time and have integrity. I'm telling you the two are related. Bryan Blowers, guitarist, and I are kind of co-captains in a way. I thank God for this. It's a winning team.
We actually discovered your voice on The Go Rounds latest EP. Is the Kalamazoo scene very collaborative? Or was that a personal connection?
Kalamazoo is all about collaboration. And so is Chicago. We are not going anywhere if we go alone. We're all friends and supporters of each other's music. I hope to work with The Go Rounds again soon, and I hope that the music community lets go of fame and money and focuses on harmony as a lifestyle—for our health—because truly fame can be a prison of sorts and money can make you a slave. It's no proper goalpost for your dreams.
The Go Rounds, "How" featuring Nashon Holloway
You must ask yourself what has meaning so that you reach your destination—which has probably always been Oneness. That we can always start from right now, build it, and take it with us as we journey along. To answer your question, it's always personal. What comes from the heart, reaches the heart. Don't waste your breath.
But now you're in Chicago. What is your biggest challenge in a new city? What's been the most surprising thing you're really enjoying?
Biggest challenge is having a 9-5 job and gigging. I wake up in the morning at 6am and try to practice my scales or answer gig-related emails, set lists and know the material for any given night (which varies from Hans Zimmer choral work, to jazz standards, to Robert Glasper, to my original music nearly day to day).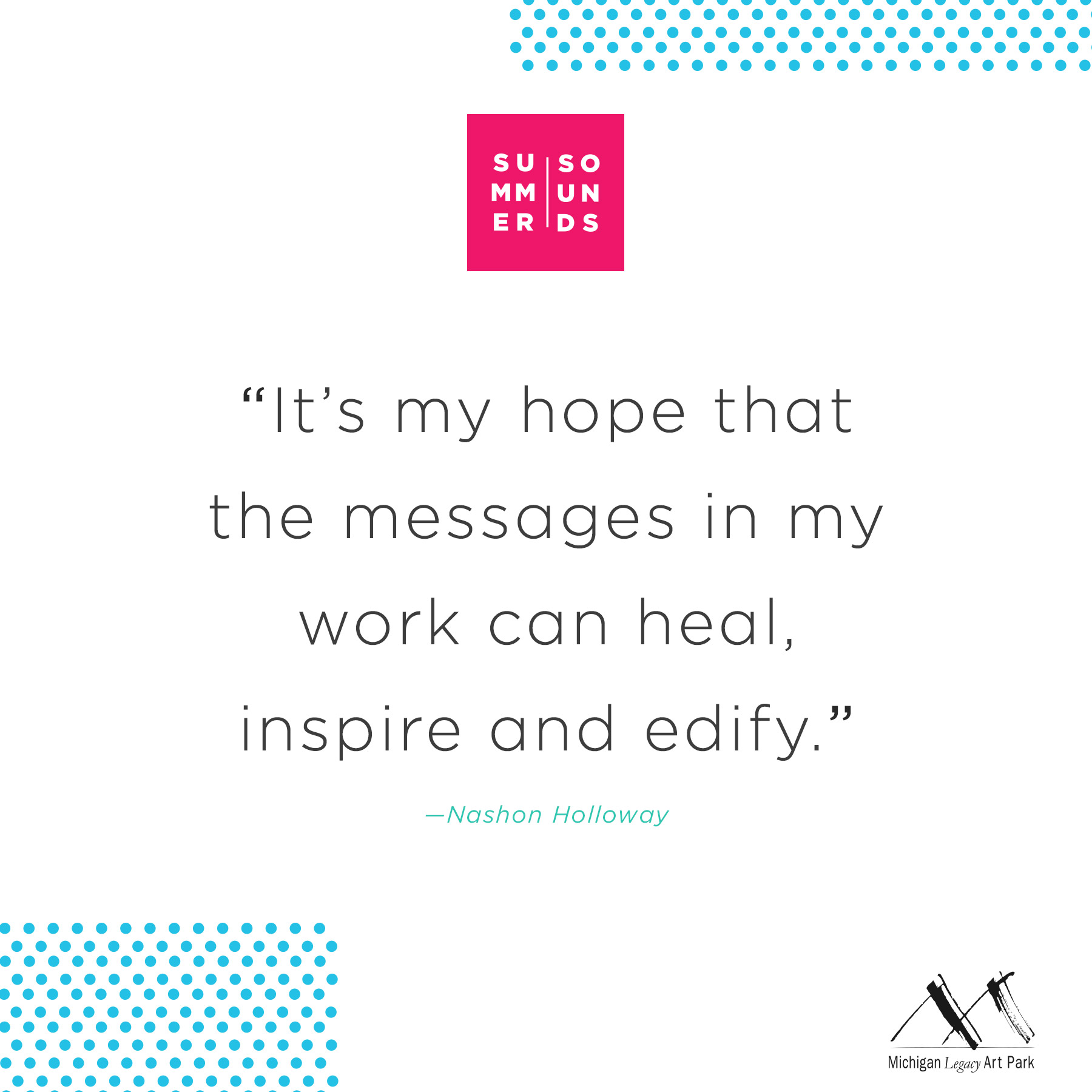 I work from 9-5, and then I will have a few hours to get home, eat, call a family member and tell them I love them, change clothes and go to the gig (which may be out of town). I might be back by 11pm or maybe 1am, or later, and then I wake up and do it again. It's pretty raw sometimes. There's more but yes, the work does pay off – even when I'm losing my cool. I intend to become an entrepreneur and make my own schedule, that way, I make it to the gym more often, etc.
Summer Sounds has been committed to bringing high quality and eclectic musical performances to our off-the-grid location for over twenty years. What value do you think music can offer small communities like those surrounding the Art Park?
It's my hope that the messages in my work can heal, inspire and edify. The goal is to make sure you're lifted, and that you lift somebody else. Harmony is more than a sound, it's a Way.
What music is in your personal "now playing" playlist right now?
Lizz Wright. Prince. D'angelo. Bilal. Robert Glasper. Lalah Hathaway. John P. Kee. Michigan Nightingales. Hans Zimmer. Lauren Desberg. Childish Gambino.