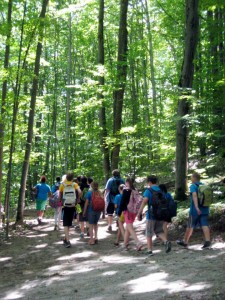 With school now in session for 2015-2016, funds are available to teachers for the transportation to get kids to the Art Park. Educational field trips to the park offer learning in an outdoor classroom, featuring over 45 sculptures along their trails. Educators in grades K-12 will find the sculptures connect to topics in social studies, history, English language, art and geography. Michigan's history comes alive through art, with the park offering kids exercise for both body and mind.
The Arts & Culture Trek Grant offers up to $500 toward transportation costs to schools throughout Michigan. MLAP is an approved destination listed on the grant application under the Traverse City heading. Offered through Michigan Youth Arts, on behalf of the Michigan Council for Arts and Cultural Affairs (MCACA), the grant must be filled out by teachers, with the form available on the Michigan Youth Arts website at www.michiganyoutharts.org. The application deadline is Oct. 19, 2015.
"With the financial difficulties schools face today, the biggest obstacle teachers face with taking students on field trips to cultural destinations is how to pay for the bus. This grant can eliminate that problem," says MLAP Education Director Patricia Innis.
"A visit to the Art Park provides students an opportunity to connect with subjects in their curriculum from different angles," says Innis. "A sculpture can serve as a starting point for study of a topic in history, science and other fields. Some teachers use a hike though the park in the spring as a way of reviewing and connecting things they learned during the year."
Located at Crystal Mountain in Benzie County, MLAP hosts over 800 area schoolchildren yearly, who experience the park on class field trips.
Innis is available to help teachers with information for the grant. She can be reached at [email protected] or by calling the park at (231) 378-4963.