Color in the Park is Annual Family Event at Art Park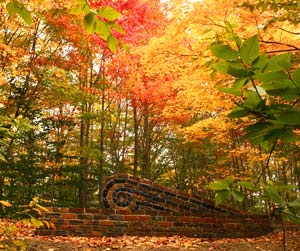 THOMPSONVILLE, MICH – A celebration of fall's colorful paint palette, join Michigan Legacy Art Park October 5 for Color in the Park. This annual family event runs from 1- 4 pm and features art activities, seasonal refreshments, live music and hiking. Event is free with admission to the park: $5 for adults, children free.
The Art Park will offer hiking and golf cart tours of the park, its sculptures and the beautiful fall landscape, a nature scavenger hunt and hot caramel apple cider and donuts, courtesy of Bud's of Interlochen. Other fun activities planned include:
• Creating art from things found in nature: rock animals, harvest rattles and more!
• Learning to play a song on the harmonica with Michael Beveridge
• Arranging fall leaves to create ephemeral art in nature
• Boy and Girl Scouts can earn one of two patches by touring the park and completing the patch activity book.
Families are encouraged to bring their cameras and do a photo scavenger hunt and play Art Park Bingo while hiking. For those with limited mobility, golf cart tours will be available throughout the day—since seating is limited, call the Art Park office at 231-378-4963 to make your golf cart tour reservation in advance.
Michigan Legacy Art Park is a 501(c)(3) nonprofit located on a 30-acre preserve leased by Crystal Mountain for $1 per year. Michigan Legacy Art Park features over 40 outdoor sculptures and 30 poetry stones that celebrate Michigan's culture and history along 1.6 miles of wooded hiking trails.