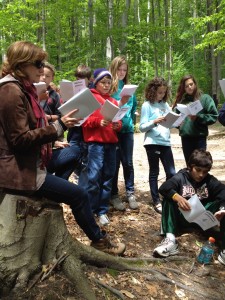 Black Friday …
Cyber Monday …
#Giving Tuesday is nearly here!
December 2, 2014 is the international day of giving back to your community. You can give to Michigan Legacy Art Park any day of the year; by giving now you are joining an international effort toward investing in causes that matter.
Did you know? In 2014 over 750 students from 20 schools throughout the ten-county northwest Michigan region took field trips to Michigan Legacy Art Park – a place in nature where students discover sculptures and poetry stones that inspire discussions in history, geography, science, language arts and the environment.
Visitors to the Art Park, both young and old, describe it as a "magical place in the woods" that inspires contemplation.
Your giving to Michigan Legacy Art Park makes such a difference in the experience we are able to provide to students, community groups, tourists and area residents. In 2015, we plan to:
Install new, thought-provoking sculptures that tell a Pure Michigan story;
Improve the landscape of the Art Park by building a barrier-free trail and arrival area;
Expand and improve the education and performance areas;
Build areas for rest and contemplation throughout the Art Park; and
Engage more students and adults in meaningful programs.
As we give thanks this holiday season, we hope you will support the Art Park magic with your contribution that will ensure creative opportunities for visitors of all ages, needs and abilities. You can make a difference.