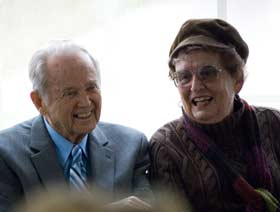 Few couples have had greater impact on Michigan's culture, heritage and environment than former Governor William and Helen Milliken. For their dedication and leadership the former Michigan governor and his wife have been selected as the recipients of the 2011 Legacy Award.
The Legacy Award is bestowed annually by Michigan Legacy Art Park to recognize those who have made a positive impact on Michigan's arts, history or culture. William and Helen Milliken will be in attendance to receive the 2011 Legacy Award during this year's Legacy Gala on August 20, 2011 at 6 p.m. The event will take place in the Crystal Center at Crystal Mountain Resort & Spa. Governor Rick Snyder, First Lady Sue Snyder, and Art Park founder David Barr will also be in attendance.
One of the state's most beloved political figures, William G. Milliken served three terms as governor from 1969 to 1983, longer than any in Michigan's history. Governor Milliken's reputation stands as a protector of civil rights, the environment, and the arts, who got things done through legislative consensus and cooperation. Helen Milliken has been a powerful voice for public support of the arts. Instrumental in the develpment of a state-wide public arts project, Mrs. Milliken has also served as chair of the Michigan Artrain since its inception. It is for these reasons and numerous others that the Millikens have been selected as the 2011 Legacy Award honorees.
Michigan Legacy Art Park recognizes those who have made a positive impact on Michigan's history, art and culture with the Legacy Award. In 2009, the Tuskegee Airmen of World War II were the first to receive the honor in conjunction with the installation of David Greenwood's Fallen Comrade, a tribute to the P-51 "Mustang" fighter plane that the Tuskegee Airmen flew bravely into battle. In 2010, the Legacy Award was presented to George and Althea Petritz who were among those that helped establish Buck Hills ski area and later took sole ownership of Crystal Mountain. Over the last 60 years, the Petritzes have left a lasting imprint on the economy and culture of Benzie County, not only as business owners but as engaged members of the community.
In addition to celebrating the award recipients' contributions to our Great Lake State, the Legacy Gala also serves as the main fundraiser for Michigan Legacy Art Park. The Art Park is a non-profit 501(c)3 organization with a mission to inspire awareness, appreciation, and passion for Michigan's history, culture, and environment through the arts. Funds raised this year will help the Art Park continue to provide a rich cultural experience and valuable learning opportunities for thousands of area residents, students and visitors each year.
Tickets to the 2011 Legacy Gala are $100 per person. You can purchase Legacy Gala tickets online or by calling 231-378-4963. Or consider becoming a sponsor of the Legacy Gala this year as we honor Governor and Mrs. Milliken. A portion of your sponsorship is tax-deductible. If interested, please contact Renee Hintz at 231-378-4963 or by e-mail at [email protected].