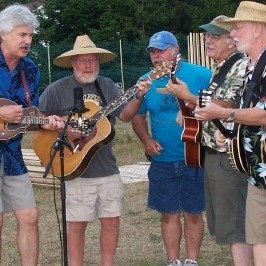 Cabin Fever will open the 2011 Summer Sounds concert series on Friday, July 8 at 7:00 p.m. The concert will take place at Michigan Legacy Art Park's scenic outdoor amphitheatre, on the grounds of Crystal Mountain Resort & Spa in Thompsonville, Michigan. Concert tickets are $10 per adult, $8 per Art Park member, and free for kids 17 years and under. Members of Michigan Legacy Art Park are hosting the concert.
With over 20 years of entertainment experience, Cabin Fever delights audiences of all ages with an eclectic mix of bluegrass, oldies, country, comedy, and folk. This well seasoned group of northern Michigan musicians features Tom Keen on acoustic guitar and vocals, Tom Fordyce on harmonica and vocals, Kurt Westie on mandolin and vocals, Paul Kirchner on banjo, fiddle and vocals and Jim Curtis on electric bass and vocals. Dubbed "bluegrass musicianaries" by Kirchner's wife, Cabin Fever was voted by the readers of Northern Express as the best bluegrass and folk band in 2001. Learn more about Cabin Fever and listen to song samples at their website: cabin-fever.org.
Guests can purchase Summer Sounds concert tickets in advance or at the Art Park on the night of the concert. Rides to the amphitheatre will begin at 6:15 p.m. for those unable to walk the trail. Some seating is provided but concert-goers are welcome to bring lawn chairs and blankets. Food and beverages will be available for purchase at the concert, or preorder a gourmet picnic dinner for two from Crystal Mountain by calling 231-378-2000 ext. 7000.
If raining, the concert will be held indoors at Crystal Mountain.
Driving Directions to Michigan Legacy Art Park
NEW THIS YEAR:
Get Comfortable in an Art Park Captain's Chair: Folding captain chairs with the Art Park logo will be available to purchase or rent at each Summer Sounds concert. Captain chairs are also available for purchase online: Art Park Captain Chairs.
Concert-goers Spa Special: Take $20 off a 50-minute facial, massage, or body treatment of your choice before any concert. Call 231-378-2000 ext. 7200 to schedule.
CONCERTS COMING UP:
July 15: Peter, Paul & Mary Remembered – Hosted by the Benzie Sunrise Rotary Club
July 22: Neptune Quartet + 1 – Hosted by the Benzie County Chamber of Commerce and the Benzie County Visitors Bureau
July 29: Archipelago Project – Hosted by Crystal Mountain Four Seasons Club
August 5: Shout Sister Shout – Hosted by Grow Benzie
Summer Sounds 2011 is underwritten in part by Crystal Mountain Resort & Spa, Michigan Council for Arts and Cultural Affairs, NorthSky Nonprofit Network, Pickle Print & Marketing, and 9&10 News Helping Hands.