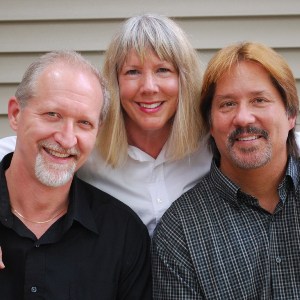 Peter, Paul & Mary Remembered will present an evening of American folk music on Friday, July 15 at 7:00 p.m. The concert is the second performance in Michigan Legacy Art Park's 2011 Summer Sounds concert series and will take place at the Art Park's open air amphitheatre. Concert tickets are $10 per adult, $8 per Art Park member, and free for kids 17 years old and younger. Benzie Sunrise Rotary Club will host this concert. Michigan Legacy Art Park is located on the grounds of Crystal Mountain Resort & Spa in Thompsonville, Michigan.
Peter, Paul and Mary have been described as one of the most enduring acts in American music. Acheiving phenomenal commercial success with their impressive catalog of 1960's folk revival-era songs, including If I Had A Hammer, Lemon Tree, and Puff The Magic Dragon, the trio was able to share their commitment to peace and social justice with millions of people worldwide.
Today, Jim Hawley, Lawrence "Doc" Probes and Donna Wilson Probes keep the spirit of the popular folk trio alive and well. Along with bassist David Swan, the three musicians combined talents in 2010 to create Peter, Paul & Mary Remembered. Transcribing each Peter, Paul & Mary arrangement, the group has been able to successfully reproduce the sound that captured the hearts of listeners around the world. "We are all steeped in the music of this era, and it flows through our veins," says Donna Wilson Probes.
Guests can purchase Peter, Paul & Mary Remembered tickets in advance or at the Art Park on the night of the concert. Rides to the amphitheatre will begin at 6:15 p.m. for those unable to walk the trail. Some seating is provided but concert-goers are welcome to bring lawn chairs and blankets. Food and beverages will be available for purchase at the concert, or preorder a gourmet picnic dinner for two from Crystal Mountain by calling 231-378-2000 ext. 7000.
If raining, the concert will be held indoors at Crystal Mountain.
Driving Directions to Michigan Legacy Art Park
NEW THIS YEAR:
Get Comfortable in an Art Park Captain's Chair: Folding captain chairs with the Art Park logo will be available to purchase or rent at each Summer Sounds concert. Captain chairs are also available for purchase online: Art Park Captain Chairs.
Concert-goers Spa Special: Take $20 off a 50-minute facial, massage, or body treatment of your choice before any concert. Call 231-378-2000 ext. 7200 to schedule.
CONCERTS COMING UP:
July 22: Neptune Quartet + 1 – Hosted by the Benzie County Chamber of Commerce and the Benzie County Visitors Bureau
July 29: Archipelago Project – Hosted by Crystal Mountain Four Seasons Club
August 5: Shout Sister Shout – Hosted by Grow Benzie
View the complete Summer Sounds 2011 lineup
Summer Sounds 2011 is underwritten in part by Crystal Mountain Resort & Spa, Michigan Council for Arts and Cultural Affairs, NorthSky Nonprofit Network, Pickle Print & Marketing, and 9&10 News Helping Hands.