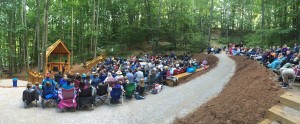 A crowd of almost 300 people showed up to see Joshua Davis perform at Michigan Legacy Art Park's first Summer Sounds concert July 1.
The park's concert series, now in its twentieth year, normally allows concert goers to show up with their $10 suggested donation, but due to Davis's immense popularity, the concert was ticketed and sold out in less than an hour.
"Josh has a large local following and after placing third on NBC's 'The Voice,' we knew this concert would pull in a large crowd – and it did, our largest yet," said MLAP Executive Director Renee Hintz.
Davis enjoyed playing in the "gorgeous setting" of the park's outdoor amphitheater.
"I love playing at intimate venues like this," said Davis. "This is like coming back home. It's really important to support the arts and it's a really cool way to support the arts in such a natural setting," Davis said of the Art Park. 
Playing without a set list, Davis took audience suggestions and displayed a humorous and engaging banter with the crowd, sharing stories from his travels and time performing on "The Voice."
 "I don't write set lists. I just kind of see what happens, so it's really fun. It's really natural," Davis said.
At one point, realizing he'd misplaced his guitar slide, a well-prepared audience member lent his own slide to Davis.
 Wynn Jones of Kalamazoo, said, "I like seeing music in the outdoors, like this kind of venue where it's really laid back and I was psyched to see Josh in what amounts to an outdoor living room."