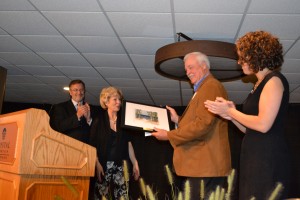 Guests at Michigan Legacy Art Park's Legacy Gala on Saturday, August 16, gave a standing ovation to George Zimmermann, the man who helped lead Michigan to national recognition through the Pure Michigan ad campaign. Zimmermann received the Art Park's Legacy Award, given to those who represent the spirit of the park, which celebrates Michigan's arts, history and culture. Travel Michigan's David Lorenz was at the event, recognizing Zimmermann with a speech and letter read on behalf of Michigan's governor, Rick Snyder.
The Legacy Award was created by 2013 Art Prize winner Ann Loveless and was presented by Art Park Board President Kathy Eiferle. The Pure Michigan ad campaign was created in partnership with the McCann Erickson ad agency and has since become a phenomenal success, generating 1.2 billion in revenue for the state. It is now a marketing tool and phrase that has grown to represent the best of Michigan, including its beauty and resilience.
"I am proud to announce that this year's gala exceeded expectations in every aspect of the event," says Art Park Director Renee Hintz. "Recognizing George Zimmermann for helping create Pure Michigan, his standing ovation and the letter from the governor were all extremely moving for our guests."
Emcee Kate Botello, of Interlochen Public Radio, drew laughs from the crowd with her art jokes, and auctioneer Charles Wickens led a witty and rousing live auction. Funds raised at the Legacy Gala directly benefit the Art Park, its educational programming for area school children, and its many planned improvements, including new permanent art acquisitions. Guests at the gala watched videos highlighting the park's mission and educational outreach programs, which over 800 area kids enjoyed during the past year.
Sparkling wine by L. Mawby was enjoyed as guests perused the assortment of over 70 live and silent auction items, before enjoying a delicious farm-to-table menu catered by Crystal Mountain, where the event was held. The big winners of the night were Tom and Julie Dawson, who had the winning bid for the South African Photo Safari package. "It's something I've always wanted to do," says Julie Dawson.