Following on the heels of the $75,000 capital improvement grant from Michigan Council for Arts and Cultural Affairs, Maurice and Linda White have contributed the lead charitable gift toward the Arts Access for All Campaign at Michigan Legacy Art Park. Their $50,000 gift will be honored with naming rights to Discovery Grove, the Park's student art exploration and exhibition area.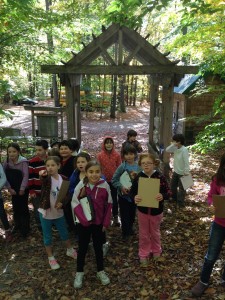 When asked what moved him to give, Maurice White simply stated "It's for the kids." Maurice and Linda deeply value the positive impact the Art Park makes on the lives of children in our local communities. Maurice, who serves on the board of directors and recognizes the changing landscape in education, appreciates the Art Park's efforts as they work with teachers to ensure that students have valuable learning opportunities. During an Art Park field trip, students discover over forty sculptures and thirty poetry stones that inspire discussions in history, geography, science, language arts and the environment. The hike gets children moving and the art projects give them an up-close encounter with art and nature. Over 800 students from ten northwest Michigan counties, Ann Arbor and Hope College explored the Art Park from October 2012 through September 2013.
The major gift from Maurice and Linda White is specifically for capital improvement projects identified in the Legacy Art Park's new Master Plan. The total cost of these capital projects is $320,000, which includes a new barrier-free trail, upgrades to the amphitheater, an all new Discovery Grove, and commissioning new sculptures. All of the capital improvement projects will benefit people of all ages, needs and abilities. "We are excited that Michigan Legacy Art Park will be universally accessible," stated Annie Campbell of Disability Network. "This will provide an educational and recreational outlet for so many who are currently unable to enjoy the Park."
With major capital improvement grants from Rotary Charities of Traverse City ($40,000), Michigan Council for Arts and Cultural Affairs ($75,000), and the Aline Underhill Orten Foundation ($5,000), Michigan Legacy Art Park will break ground on these capital improvements in spring 2014.
"We are thrilled to have such wonderful momentum as this calendar year comes to a close" responded Renee Hintz, executive director. "With these recent major gifts, Michigan Legacy Art Park will be able to move forward with our plan to improve accessibility and enhance our educational programs. We still need additional support, but these gifts bring these exciting plans within reach."
During this season of giving, join Maurice and Linda White in making an immediate impact on the quality of life and educational opportunities in northern Michigan. To help with a matching gift now before the end of the calendar year, please call Renee Hintz at (231) 378-4963. Naming opportunities are available.
Checks, made payable to Michigan Legacy Art Park, can be mailed to: Michigan Legacy Art Park, 12500 Crystal Mountain Drive, Thompsonville, MI 49683.
Online gifts are accepted by clicking here. Select "Barrier-Free Access Project" during the checkout process.