In 2013, Bob and Jane Holdeman established a memorial fund at the Art Park for their son, John, with the intention of proposing an artwork dedicated to him. On July 13, 2019, the project was finally fully realized, as a group of family, friends, and supporters gathered for a beautiful dedication for the newest addition to the Art Park's permanent collection, A Dream of Home.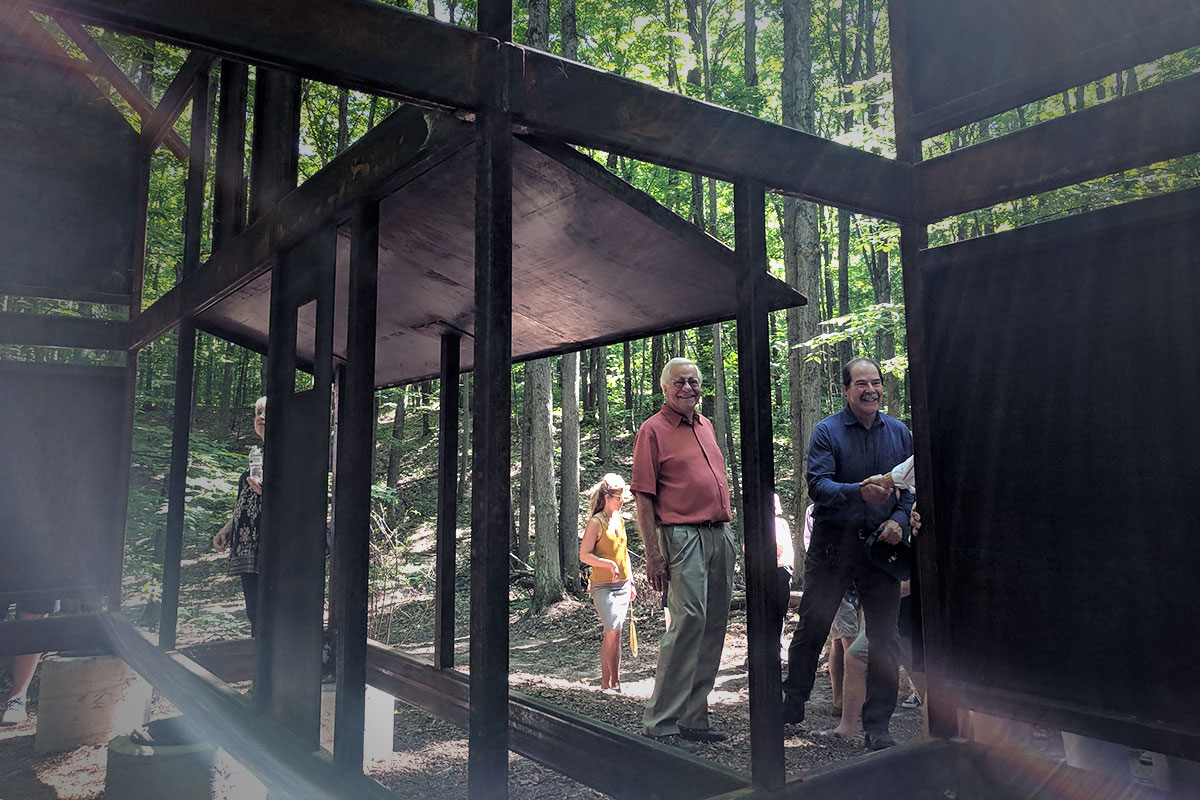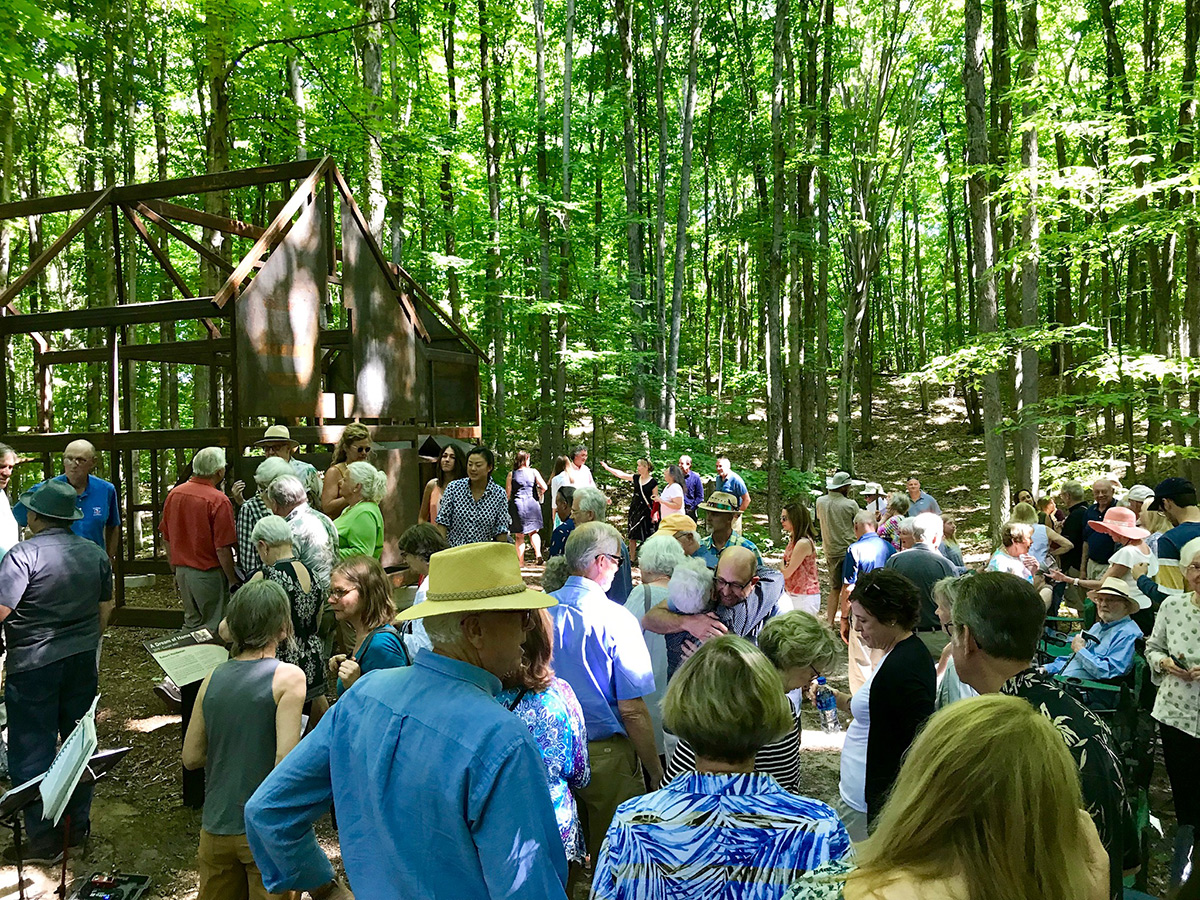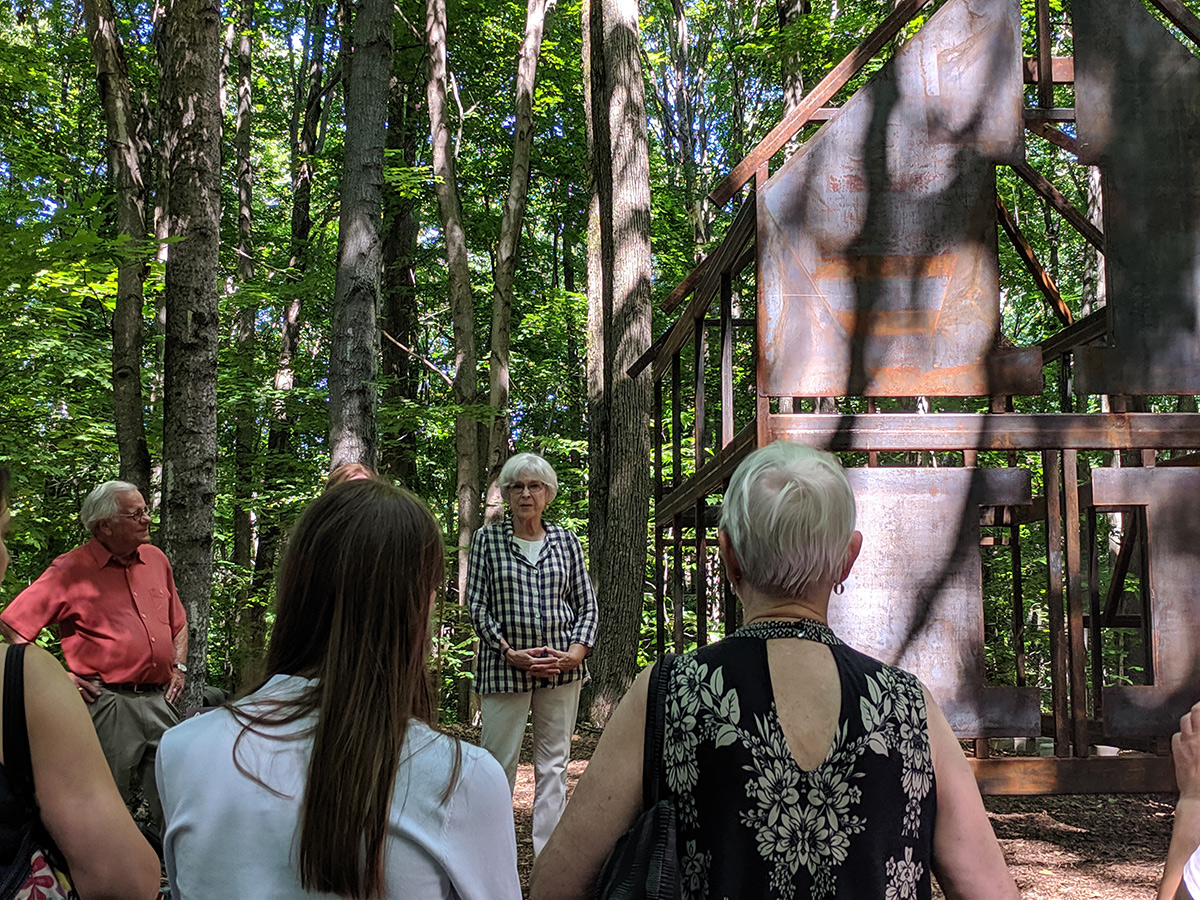 "As an architect, I have long felt, as did Art Park Founder David Barr, that there should be some recognition of the buildings that nurtured those who settled here and provided a foundation for the further development of Michigan. As an artist I have chosen to create an abstraction of the iconic I-House style so indigenous to the Midwest. The sculpture is made up of the most basic construction members suggesting windows, stairs and chimney. Constructed of Corten steel, it will rust and quietly rest in the surrounding woodland." Bob Holdeman
A picture-perfect summer day set the stage as over 90 individuals came to participate in this special event. For many, the Holdemans have been beloved friends and neighbors for decades. It was truly clear to see this family has touched the lives of many in positive, meaningful ways. The sculpture was created in memory of Bob and Jane's son John, and several of his personal friends were able to be present for this special moment as well.
A Dream of Home represents the roots of so many Michiganders. It is the home place and an integral part of the landscape that defines us. It is a part of the rolling hills, the fields and woodlands, the comfort of an unchanging memory. We seek adventure and drama, but in the end, it is the dream of home that sustains us and in so many cases actually brings us back.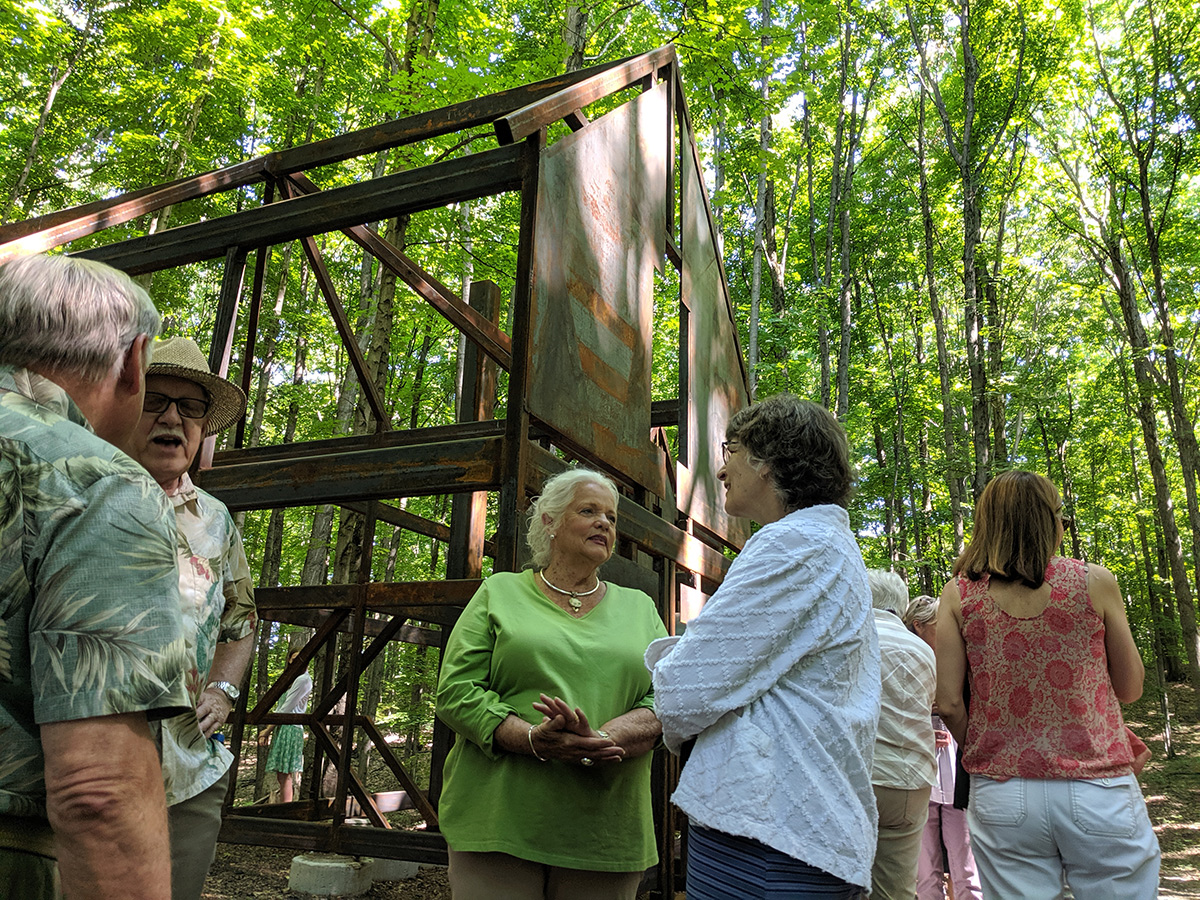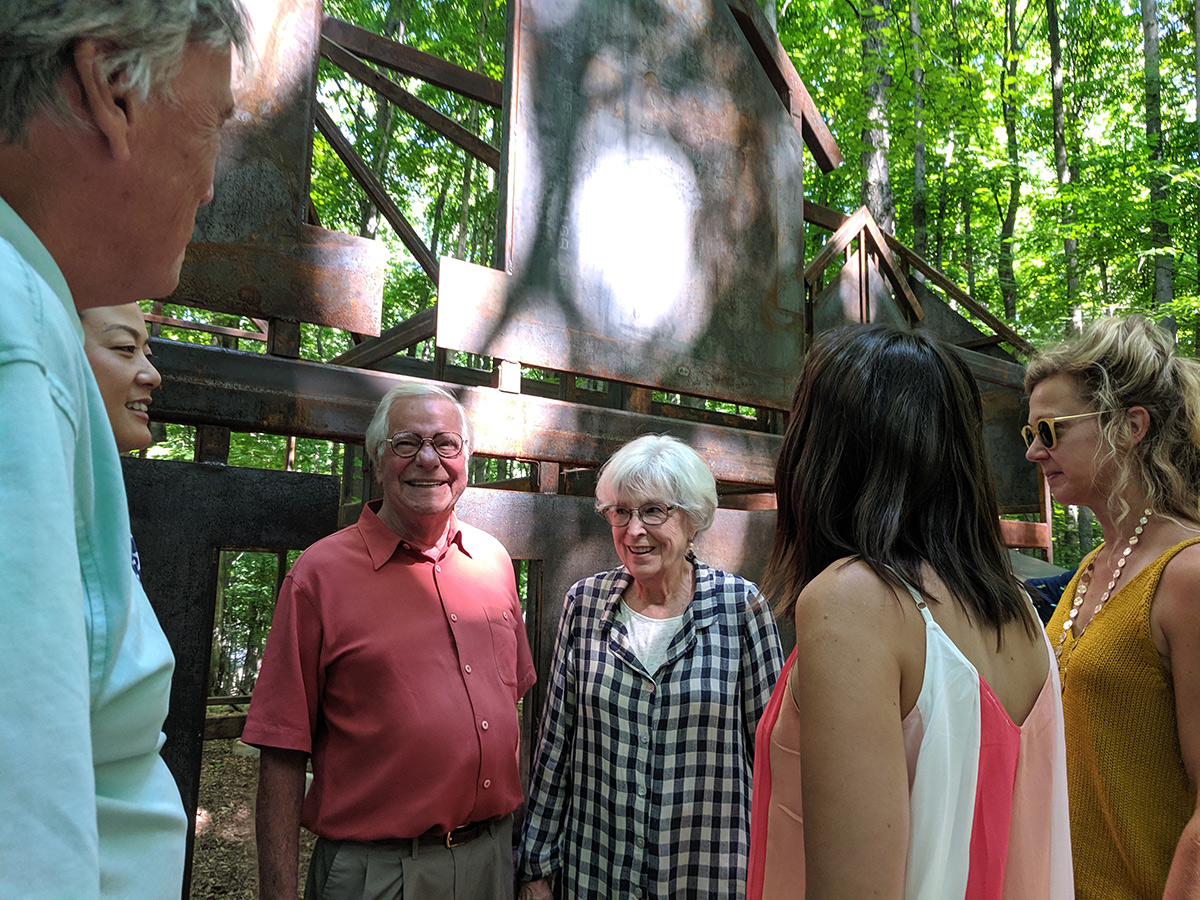 The ceremony included heartfelt addresses from both Bob and Jane, as well as current MLAP Board President, Maree Mulvoy. With birds chirping overhead and sunlight trickling through the canopy, a highlight was the few contemplative moments in which the Windy Ridge Boys (Angelo Meli, Joe Bottenhorn and Glenn Wolff) performed a moving rendition of The Beatles' "Across the Universe."
This day was truly one of rich and deep impact for all who were involved, the sort of lasting experience expressly in line with the Art Park's mission. The sculpture now remains for the hundreds of thousands of future visitors who can stop, take it in, and consider for themselves the idea of "home" and just what that might mean to them.
A Dream of Home was made possible by the many generous contributions in memory of John Holdeman and by these amazing collaborators:
Maurice & Betsy Allen · Vicki & William Anderson · Betsy & Charles Arcari · Jon & Mary Armstrong · Ruth Bay · David & Susan Beattie · Gnny & Doug Bishop · Jack & Joanne Brown · Matthew Cain · Kathleen Carpenter · Carol & John Coonrod · Robert Cornwell · Cynthia Crawford · Michael & Teckla Dettmer · Patricia DeYoung · Pollyanne Dux · Kathy & Harry Eiferle · Walter & Susan Feiger ·
Susan & George Foote · Don & Nancy Fraser · Ruth Frost · Renae Gurthet · Carolyn & Dan Habel · Hagerty Insurance · Erie Heermann · Renee & Chris Hintz · Robert & Jane Holdeman · John & Dian Holdeman · Richard & Diane Holdeman · Michele & Scott Howard · Barbara Johnson · Kevin & Carolyn Kelly · Donna & Jeff Kozisek · Barbara Lasusa · Keith & Mary Ann Leak · Jim & Chris MacInnes · Michael & Susan McIntyre · Lizbeth Messing · Anne Mudgett · Kathleen O'Hara · Clarine Olson · Grant & Paulette Parsons · Patty Pelizzari · Rebecca Peterson · Richard & Susan Pletcher · Ken & Joan Richmond · Timothy Roache · William & Anne Rock · Marena Sabo · Lyn & Pat Salathiel · John Suzette · Paul & Ann Schwartzkopf · James & Carol Seidel · Serbin Real Estate · Kathryn & Robert Shaw · Jackie & Seamus Shinners · Donald & Leslie Sibery · Sean & Blythe Skarshaug · Marlene & Dave Steider · Terry & Michael Tarnow · Suzy Voltz · James & Stephanie Walter · Paul & Delphine Welch · Tom Whitaker · Patricia Wiley · Sydney & Daniel Wilson · Mark & Carole Woodward · John & Peggy Zachman
Metal Fabrication by Darin Fetter and Steve Bint, North Shore Iron Works
Angelo Vozza, Avanti Engineering LLC, Structural Consultant
Renee Hintz and Kaz McCue, Michigan Legacy Art Park Project Planning (2016-2018)
Site Excavation and Sculpture Assembly by Webster Construction
James Schettek
David Webster
Raymond Aprill
Chad Young
Kevin Kelly
Lawrence Martindale
Site Assistance by Crystal Mountain
Kirk Davidson
Steve Kirbach
Jason Farah
John Melcher