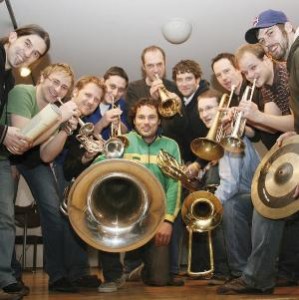 Ensemble brings world class musicianship and advocacy to Michigan Legacy Art Park.
Both a performance powerhouse and a non-profit music education ensemble, Archipelago Project will inspire and awe their Summer Sounds concert audience at Michigan Legacy Art Park on Friday, July 29 at 7:00 p.m. Hosted by Crystal Mountain Four Seasons Club, the concert is the fourth performance in the Art Park's 2011 Summer Sounds concert series. Tickets to see Archipelago Project perform are $10 per adult, $8 per Art Park member, and are free for kids 17 years and younger. The concert takes place at Michigan Legacy Art Park's open air amphitheatre, located on the grounds of Crystal Mountain Resort & Spa in Thompsonville, Michigan.
Performing an eclectic mix of musical styles from around the globe and different eras, including classical, polka, marches, jazz, big band, swing, salsa, funk and even pop classics, Archipelago Project takes the audience for a ride on a musical roller coaster that they won't soon forget. In addition to touring the United States, Austria, Germany and Venezuela, the group is dedicated to promoting music education in public schools and performs one to two week residencies at middle schools and high schools across the United States. Most recently, Archipelago Project has performed tours and school residencies in Hartford and Stamford, Connecticut along with a school residency in Beverly Hills, Michigan. In addition, group members have developed an ongoing music education program in Traverse City, where young, talented musicians from TC area schools learn from professional musicians.
Listen to the music of Archipelago Project and learn more about the group's education objectives by visiting their website: archipelagoproject.org
Guests can purchase Archipelago Project tickets in advance or at the Art Park on the night of the concert. Rides to the amphitheatre will begin at 6:15 p.m. for those unable to walk the trail. Some seating is provided but concert-goers are welcome to bring lawn chairs and blankets. Food and beverages will be available for purchase at the concert, or preorder a gourmet picnic dinner for two from Crystal Mountain by calling 231-378-2000 ext. 7000. If raining, the concert will be held indoors at Crystal Mountain.
Driving Directions to Michigan Legacy Art Park
NEW THIS YEAR:
Get Comfortable in an Art Park Captain's Chair: Folding captain chairs with the Art Park logo will be available to purchase or rent at each Summer Sounds concert. Captain chairs are also available for purchase online: Art Park Captain Chairs.
Concert-goers Spa Special: Take $20 off a 50-minute facial, massage, or body treatment of your choice before any concert. Call 231-378-2000 ext. 7200 to schedule.
CONCERTS COMING UP:
August 5: Shout Sister Shout – Hosted by Grow Benzie
View the complete Summer Sounds 2011 lineup
Summer Sounds 2011 is underwritten in part by Crystal Mountain Resort & Spa, Michigan Council for Arts and Cultural Affairs, NorthSky Nonprofit Network, Pickle Print & Marketing, and 9&10 News Helping Hands.