Michigan Legacy Art Park is excited to announce Lois Teicher as our 2021 Legacy Award Honoree, who will be saluted in a live event at Crystal Mountain on Friday August 6th, 2021.
The 2021 Legacy Gala will take place at the Pavilion Tent and Patio at the foothills of Crystal Mountain. Guests will enjoy food, drink and celebration outdoors and safely distanced. The artist will be in attendance, along with other special guests.
Lois Teicher has been working as a distinguished sculptor for decades. Over the years she has been featured in hundreds of exhibitions, including the Robert Kidd Gallery in Birmingham, Michigan, a retrospective at the Saginaw Art Museum, and a one woman show at the Dennos Museum Center, with works in the collections of both institutions.
The Scarab Club in Detroit honored Teicher in 2019 with their exhibition, "Lois Teicher: Woman of Steel." The collection juxtaposed early and recent work in a retrospective look at one of Michigan's most prolific and groundbreaking artists.
Teicher has lived and worked in Detroit her entire life and is well known for her large-scale steel sculptures, including Curved Form with Rectangle and Space (2000), installed in Hudson Art Park, Bonnet (1999), permanently installed in the Michigan Legacy Art Park, Bag (2011) in Kansas City, Missouri, and Paper Airplane Series in Bishop Airport, Flint. In addition, her work is beloved in numerous private and public collections.
In 2008, she was awarded the Michigan Artist Lifetime Achievement Award from The Governor's Awards for Arts & Culture, produced by ArtServe Michigan. She graduated in 1979 with a bachelor's degree in fine arts from the College for Creative Studies, and from Wayne State University in 1981 with a master's degree in fine arts.
"I experience inspiration as a larger creative force coming through me, from a felt sense of universal energy. As an artist, I believe I was meant to express this energy in visual form, hoping that the viewer would notice, reflect upon, become aware of, and share the experience."  Lois Teicher
Art Park Connections
When Art Park founder David Barr approached Teicher for ideas on artworks she might create for the park in the earliest days, she instantly told him whatever she created would salute women.
kWorking tirelessly onsite in 1998 to create the large format art using a custom set of scaffolding and lugging the heavy Ferro-cement in by hand, the project was so treacherous, Teicher even broke her foot tripping over tree roots surrounding the sculpture. And yet, as she always does, she persevered and finished the installation (almost entirely on her own).
Now, over twenty-years later the strong upright bonnet with its flowing tendrils or ties, is still a standing symbol of the spirit and history of pioneer and Native women who braved wilderness forests, primitive living conditions, and gender oppression to forge new lives in Michigan.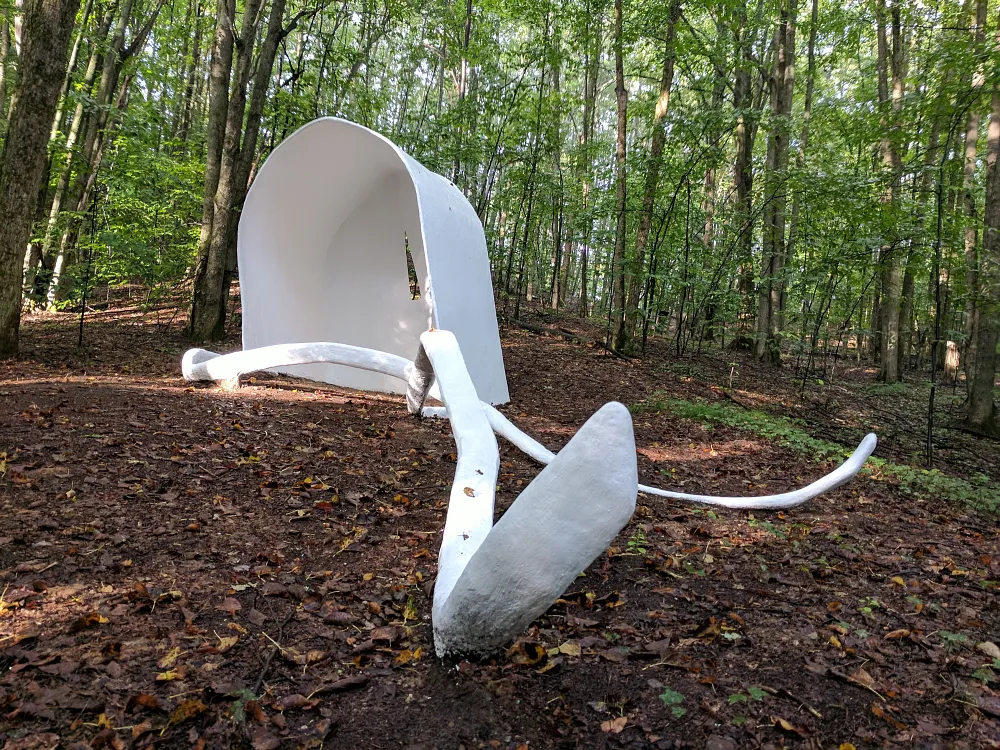 To visit Teicher's work "Bonnet" in person, follow the park's lower Ridge Trail and you can see glimpses of it on the approach in either direction -—waiting to share a story of the past, and some hope for the future.